Wellington Chamber Music Trust Concert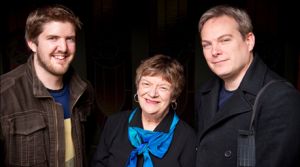 Three top New Zealand musicians join forces to perform piano trios by Beethoven and Schubert, as well as the violin sonata and the cello sonata by Debussy. They gave this concert in St Andrew's on The Terrace as part of the 2013 Wellington Chamber Music Sunday series.
Beethoven's Op.70 No.2, published in 1809 is tucked away amongst some very famous works like the 'Ghost' trio and also Symphonies No. 5 and 6.
The violin and cello sonatas are both remarkable for their brevity, each well under 15 minutes. They also show Debussy exploring the capabilities of each instrument; moving more towards absolute music, and away from previous influences like literature and the visual arts.
Schubert's Piano Trio No.2 is one of the last compositions he wrote before he died. The trio's 2nd movement has been used many times in films, the distinctive staccato chords and measured tune of that movement make for great atmosphere and suspense in both the cinema and the concert hall.
Diedre Irons (pno), Vesa-Matti Leppänen (vln), Andrew Joyce (cello)
BEETHOVEN: Piano Trio No 6 in Eb Op 70/2; DEBUSSY: Violin Sonata in G minor; Cello Sonata in D minor; SCHUBERT: Piano Trio No 2 in Eb D929
Recorded in St Andrew's on The Terrace, Wellington by Radio New Zealand