Deutsche Welle Festival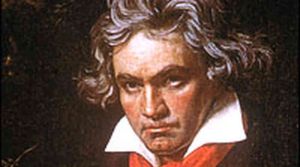 The final concert in our Deutsche Welle series comes from the 2014 Beethovenfest recorded in the composer's native city of Bonn. It contains the work that probably best sums up the Beethovenfest's motto "Götterfunken", divine sparks.
Symphony No 9 took the almost deaf Beethoven, nearly two years of struggles and seclusion before he could be seen strolling through the streets again. In the choral finale of this symphony, Ode to Joy, he sets the words of a drinking song and propels them to glorious heights. Also on the programme Beethoven's Symphony No 8.
Andris Nelsons conducts the City of Birmingham Symphony Chorus & Orchestra with Anna Gabler (soprano), Lioba Braun (contralto), Toby Spence (tenor) and Vuyani Mlinde (bass). Join WFMT's Rick Fulker for music, interviews with the artists and more.
(13) Beethoven Symphonies at Beethovenfest, Bonn
Anna Gabler (sop), Lioba Braun (contralto), Toby Spence (ten), Vuyani Mlinde (bass), CBSO Chorus & Orch/Andris Nelsons
BEETHOVEN: Symphony No 8 in F Op 93;
Symphony No 9 in D minor Op 125, Choral
Recorded at Beethoven House, Bonn by West German Radio/WFMT