Deutsche Welle Festival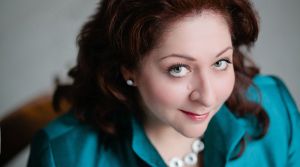 This all-Strauss programme featuring Christine Goerke will be of great interest to New Zealand audiences as we look forward to a visit in June from this American soprano for a Wagner Gala with the New Zealand Symphony Orchestra.
Goerke is at the top of her powers, recently being named 2015 Musical American Vocalist of the Year. She is "the Wagner-Strauss soprano we've been waiting for, a multi-hued miracle of gale-force power and pin point control, effortlessly riding over the most clamouring orchestras."
In this concert of female-strong roles from Strauss operas, Goerke appears with Finnish soprano Camilla Nylund and German mezzo soprano Anja Harteros.
Germany's international public broadcaster, Deutsche Welle, records the world's top performers in German palaces, churches and concert halls, capturing the full immediacy and festivity of each renowned event.
This concert comes from Dresden's Semper Opera House, re-built forty years after its near complete destruction during the infamous Allied carpet bombing that took place in the closing phases of World War II.
(1) Christine Goerke, Camilla Nylund (sops), Anja Harteros (mezzo), Dresden State Orch/Christian Thielemann
STRAUSS: Waltzes, from Der Rosenkavalier (first sequence); Allein! Weh, ganz allein, from Elektra; Love scene, from Feuersnot; Salome, closing scene; Waltzes, from Der Rosenkavalier (second sequence); Act One finale, from Arabella; Daydreaming at the fireplace; Second symphonic interlude, from Intermezzo;
Second wedding night; Helen's aria, from The Egyptian Helen; Potpourri Overture, from Die Schweigsame Frau; Final scene and Daphne's transformation, from Daphne;
Recorded in the Semper Opera House, Dresden by Deutsche Welle and provided by WFMT