The Brodsky Quartet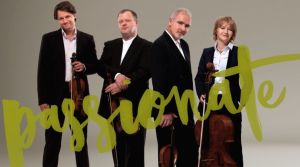 Shostakovich has long been a cornerstone of the Brodsky Quartet's repertoire and last year they performed the complete cycle during year-long reflections on the World War I centenary.
In this programme, they play No 3 in F. A critic for The Guardian singled this out as the quartet where the Brodskies showed "the greatest awareness of the composer's deeply personal engagement with the quartet medium" and their own ability to "communicate on so many levels – humanity and virtuosity all part of the essential integrity of their approach."
They open the concert with Schubert's 'Quartettsatz' - a single movement with a real ebb and flow of tension throughout, and they conclude with another late great by Beethoven: Opus 132.
The Brodsky Quartet turned 40 this decade. They recall with fondness those days in the 70s when they first got together on a Friday night after Youth Orchestra, to play football, table tennis, and sometimes quartets. Over 3000 concerts and more than 60 recordings later, they're yours for the listening – tonight, on Radio New Zealand Concert.
Brodsky Quartet: Daniel Rowland, Ian Belton (vlns), Paul Cassidy (vla), Jacqueline Thomas (cello)
SCHUBERT: String Quartet No 12 in C minor, Quartettsatz; SHOSTAKOVICH: String Quartet No 3 in F Op 73
(Interval)
BEETHOVEN: String Quartet in A minor Op 132 (RNZ)
This concert is a delayed broadcast from the Auckland Town Hall by Radio New Zealand Concert