The Brodsky Quartet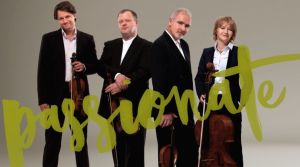 You sit. They stand. It's a trademark of the Brodsky Quartet's "engaging communicative style", according to Euan Murdoch, Chamber Music New Zealand's former Chief Executive. He describes them as a "phenomenal group" with programming that's "always incredibly inventive". They led the charge when crossover became popular, teaming up in the 1990s with Elvis Costello, and later Björk.
Chamber Music New Zealand is touring this group to ten centres. The English foursome brings two rare "gems" with them from their home country: Britten's arrangement of Purcell's Chaconne, a study in simplicity and purity of texture, and part of an early classically-based quartet by Britten, Poème, a soaring conversation between three players over a pulsating 2nd violin pedal.
They'll also play Bartók's 5th String Quartet containing Bulgarian rhythms and eerie "night music," and explore with characteristic passion, the monumental late Beethoven quartet: Opus 131, considered an emotional marathon.
The Brodsky Quartet has given over 3000 concerts and released more than 60 recordings since they first formed in 1972. The cellist and second violinist are original members.
Sharing their energy and craftsmanship with the next generation, they are currently International Fellows of Chamber Music at the Royal Conservatoire of Scotland.  
Brodsky Quartet: Daniel Rowland, Ian Belton (vlns), Paul Cassidy (vla), Jacqueline Thomas (cello)
PURCELL: Chaconne in G minor; BRITTEN: Poème; BARTÓK: String Quartet No 5 Sz102
BEETHOVEN: String Quartet in C# minor Op 131 (RNZ)
This concert is a direct broadcast from Wellington's Michael Fowler Centre by Radio New Zealand Concert