St Matthew Passion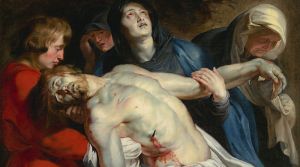 The season of Easter wouldn't be complete without Bach's St Matthew Passion. Tonight, Flemish Bach specialists Collegium Vocale Ghent and their conductor, Philippe Herreweghe, join an orchestra with a rich passion tradition, the Royal Concertgebouw Orchestra.
Bach's St Matthew Passion is a monument not only amongst oratorio-passions but in Bach's own output. It's his longest and grandest work, typically lasting three hours, with the original score calling for 13 soloists, two orchestras and three choirs, including a children's choir.
For this reason, New Zealand groups rarely tackle it in full. This Easter Sunday, Wellingtonians have the chance to attend a complete performance. Whether you can be there or not, don't miss tonight's broadcast from these two distinguished European ensembles, also the Dutch National Boys' Choir and a soloist line-up of rising stars as well as well-established singers.
The German baritone Thomas Bauer has previously sung Christ to great acclaim in Amsterdam. German tenor Maximilian Schmitt makes his debut as the Evangelist. Other solosts include English soprano Carolyn Sampson, French countertenor Damien Guillon, British tenor Benjamin Hulett (tenor) and Dutch bass Peter Kooij.
Carolyn Sampson (sop), Damien Guillon (countertenor), Maximilian Schmitt, Benjamin Hulett (tens), Thomas Bauer (bar), Peter Kooij (bass), Collegium Vocale Ghent, Dutch National Boys' Choir, Royal Concertgebouw Orchestra/Philippe Herreweghe
BACH: St Matthew Passion BWV244
This performance was recorded at the Concertgebouw, Amsterdam in April 2014 by Radio Netherlands