Sunday, 27 September 2015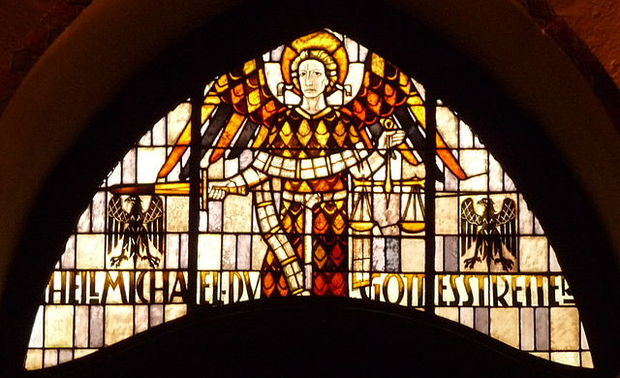 Saint Michael; stained glass in the Pfarrkirche St. Martin in Linz am Rhein (Germany).
The legend says "Heil Michael du Gottes Streiter" (Heil Michael, you Warrior of God). 20th century.
Image by Warburg. Source: Wikimedia Commons.
7:30 AM.A selection of traditional and modern hymns. In this programme, we've a popular hymn from the Billy Graham crusades, there's an arrangement of the hymn tune Colne for brass band, and we mark the Feast… Read more Audio
FEAST OF ST MICHAEL AND ALL ANGELS (29 SEPTEMBER)
SONG: PRAISE GOD, FOR HE IS KIND
Artist: Scottish Philharmonic Singers, Ian McCrorie (dir), John Langdon (organ)
Words/Music: Psalm 136/Croft
Recording: Abbey 282830
Praise God, for he is kind:
His mercy lasts for aye.
Give thanks with heart and mind
To God of gods alway:

Refrain:
For certainly
His mercies dure
Most firm and sure
Eternally.

The Lord of lords praise ye,
Whose mercies still endure.
Great wonders only he
Doth work by his great pow'r
Refrain:

Which God omnipotent,
By might and wisdom high,
The heav'n and firmament
Did frame, as we may see:
Refrain:

Who hath remembered
Us in our low estate;
And us delivered
From foes which did us hate:
Refrain:
SONG: GREAT IS THY FAITHFULNESS
Artist: Choir of Wells Cathedral, Malcolm Archer (dir), Rupert Gough (organ)
Words/Music: Chisholm/Runyan
Recording: Hyperion 112105
"Great is thy faithfulness," O God my Father,
There is no shadow of turning with thee;
Thou changest not, thy compassions, they fail not;
As thou hast been thou for ever wilt be.

Refrain:
"Great is thy faithfulness!
Great is thy faithfulness!"
Morning by morning new mercies I see:
All I have needed thy hand hath provided,
"Great is thy faithfulness," Lord unto me!

Summer and winter, and springtime and harvest,
Sun, moon and stars in their courses above,
Join with all nature in manifold witness
To thy great faithfulness, mercy and love.
Refrain:

Pardon for sin and a peace that endureth,
Thine own dear presence to cheer and to guide;
Strength for today and bright hope for tomorrow,
Blessings all mine, with ten thousand beside!
Refrain:
SONG: YE WATCHERS AND YE HOLY ONES
Artist: Elora Festival Singers, Noel Edison (dir), Matthew Larkin (organ)
Words/Music: Riley/Anon arr Willan
Recording: Naxos 8.557734
Ye watchers and ye holy ones,
Bright seraphs, cherubim and thrones,
Raise the glad strain, Alleluia!
Cry out, dominions, princedoms, powers,
Virtues, archangels, angels' choirs:

Refrain:
Alleluia! Alleluia!
Alleluia! Alleluia!
Alleluia!

O higher than the cherubim,
More glorious than the seraphim,
Lead their praises, Alleluia!
Thou bearer of th'eternal Word,
Most gracious, magnify the Lord.
Refrain:

Respond, ye souls in endless rest,
Ye patriarchs and prophets blest,
Alleluia! Alleluia!
Ye holy twelve, ye martyrs strong,
All saints triumphant, raise the song.
Refrain:

O friends, in gladness let us sing,
Supernal anthems echoing,
Alleluia! Alleluia!
To God the father, God the son,
And God the spirit, three in one.
Refrain:
SONG: LET ALL MORTAL FLESH KEEP SILENCE
Artist: Choir of Westminster Abbey, James O'Donnell (dir), Robert Quinney (organ)
Words/Music: Anon paraphrased Moultrie/Trad
Recording: Hyperion 712801
Let all mortal flesh keep silence,
And with fear and trembling stand;
Ponder nothing earthly minded,
For with blessing in his hand,
Christ our God to earth descendeth,
Our full homage to demand.

King of kings, yet born of Mary,
as of old on earth he stood,
Lord of lords, in human vesture,
in the body and the blood,
he will give to all the faithful
his own self for heavenly food.

Rank on rank the host of heaven
Spreads its vanguard on the way,
As the light of light descendeth
From the realms of endless day,
That the powers of hell may vanish
As the darkness clears away.

At his feet the six wingèd seraph,
Cherubim with sleepless eye,
Veil their faces to the presence,
As with ceaseless voice they cry:
Alleluia, alleluia
Alleluia, Lord most high!
SONG: COLNE
Artist: NZ Community Trust Woolston Brass Band, David Gallaher (dir)
Words/Music: Anon arr Rive
Recording: Private 930
Words: Oxenham
'Mid all the traffic of the ways,
Turmoils without, within,
Make in my heart a quiet place,
And come and dwell therein:

A little shrine of quietness,
All sacred to thyself,
Where thou shalt all my soul possess,
And I my find myself:

A little place of mystic grace,
Of self and sin swept bare,
Where I may look into thy face,
And talk with thee in prayer.

Come occupy my silent place,
And make thy dwelling there!
More grace is wrought in quietness
Than any is aware.
SONG: LORD OF OUR LIFE, AND GOD OF OUR SALVATION
Artist: Cantus Choro
Words/Music: Löwenstern paraphrased Pusey/Anon
Recording: Move 743142
Lord of our life and God of our salvation,
Star of our night and hope of ev'ry nation:
Hear and receive your Church's supplication,
Lord God Almighty.

Lord, who can help when earthly armour fails us,
Lord, who can save when deadly sin assails us;
You war not, Christ, our Lord will never fail us.
Grant us your peace, Lord.

Peace, in our hearts, our evil thoughts assuaging,
Peace, in Thy church, where brothers are engaging,
Peace, when the world its busy war is waging;
Calm your foes raging!

Grant us your help till backward they are driven;
Grant them your truth, that they might be forgiven;
Grant peace on earth, or, after we have striven,
Peace in your heaven.
SONG: HOLY SPIRIT, EVER LIVING
Artist: Choir of All Saints Episcopal Church, Beverly Hills, Thomas Foster (dir), craig Phillips (organ)
Words/Music: Rees/Taylor
Recording: Gothic 349074
Holy Spirit, ever living
As the Church's very life;
Holy Spirit, ever striving
Through us in a ceaseless strife;
Holy Spirit, ever forming
In the Church the mind of Christ;
Thee we praise with endless worship
For thy fruits and gifts unpriced.

Holy Spirit, ever working
Through the Church's ministry;
Quick'ning, strength'ning, and absolving,
Setting captive sinners free;
Holy Spirit, ever binding
Age to age and soul to soul
In communion never ending,
Thee we worship and extol.
YE HOLY ANGELS BRIGHT
Artist: Cantus Choro
Words/Music: Baxter/Darwall
Recording: Move 743142
Ye holy angels bright,
who wait at God's right hand,
or through the realms of light
fly at your Lord's command,
assist our song,
for else the theme
too high doth seem
for mortal tongue.

You blessed souls at rest,
who ran this earthly race
and now, from sin released,
behold your saviour's face,
his praises sound,
as in his sight
with sweet delight
you do abound.

You saints, who toil below,
adore your heavenly King,
and onward as ye go
some joyful anthem sing;
take what he gives
and praise him still,
through good or ill,
who ever lives.

My soul, bear thou thy part,
triumph in God above:
and with a well-tuned heart
sing thou the songs of love!
Let all thy days
till life shall end,
whate'er he send,
be filled with praise!