Sunday, 20 September 2015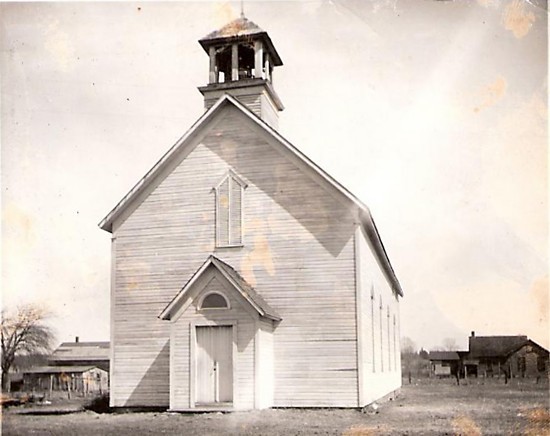 First Methodist Episcopal Church of Pokagon, Michigan, where the first performance of
George Bennard's hymn The Old Rugged Cross took place in 1913.
7:30 AM.A selection of traditional and modern hymns. This week we've some hymns to mark the Feast of the Cross, including In the cross of Christ I glory, The old rugged cross, and Lift high the cross. Audio
FEAST OF THE CROSS (14 SEPTEMBER IN THE LITURGICAL CALENDAR)
SONG: AT THE NAME OF JESUS
Artist: Choir of Wells Cathedral, Malcolm Archer (dir), Rupert Gough (organ)
Words/Music: Noel/Monk
Recording: Hyperion 112102
At the name of Jesus every knee shall bow,
every tongue confess him King of glory now;
'tis the Father's pleasure we should call him Lord,
who from the beginning was the mighty Word.

At His voice creation sprang at once to sight,
all the angel faces, all the hosts of light,
thrones and bright dominions, stars upon their way,
all the heav'nly orders in their great array.

Humbled for a season to receive a name
from the lips of sinners unto whom he came,
faithfully he bore it spotless to the last,
brought it back victorious, when from death he passed;

Bore it up triumphant, with its human light,
through all ranks of creatures, to the central height,
to the throne of Godhead, to the Father's breast,
filled it with the glory of that perfect rest.

Christians, this Lord Jesus shall return again,
with His Father's glory with His angel train;
for all wreaths of empire meet upon his brow,
and our hearts confess him King of glory now.
SONG: WORSHIP THE LORD IN THE BEAUTY OF HOLINESS
Artist: Cantus Choro
Words/Music: Monsell/Anon
Recording: Move 743142
Worship the Lord in the beauty of holiness;
bow down before Him, His glory proclaim;
gold of obedience and incense of lowliness
bring, and adore him; the Lord is his Name!

Low at his feet lay thy burden of carefulness,
high on his heart he will bear it for thee,
comfort thy sorrows, and answer thy prayerfulness,
guiding thy steps as may best for thee be.

Fear not to enter his courts in the slenderness
of the poor wealth thou wouldst reckon as thine;
truth in its beauty, and love in its tenderness,
these are the offerings to lay on His shrine.

These, though we bring them in trembling and fearfulness,
he will accept for the Name that is dear;
mornings of joy give for evenings of tearfulness,
trust for our trembling, and hope for our fear.

Worship the Lord in the beauty of holiness;
bow down before Him, His glory proclaim;
gold of obedience and incense of lowliness
bring, and adore him; the Lord is his name!
SONG: IN THE CROSS OF CHRIST I GLORY
Artist: Choir of Yorkminster Park Baptist Church, Catherine Palmer (dir),
Words/Music: Bowring/Stainer
Recording: Marquis
In the cross of Christ I glory,
towering o'er the wrecks of time;
all the light of sacred story
gathers round its head sublime.

When the woes of life o'ertake me,
hopes deceive, and fears annoy,
never shall the cross forsake me,
lo! it glows with peace and joy.

When the sun of bliss is beaming
light and love upon my way,
from the cross the radiance streaming
adds more lustre to the day.

Bane and blessing, pain and pleasure,
by the cross are sanctified;
peace is there that knows no measure,
joys that through all time abide.

In the cross of Christ I glory,
towering o'er the wrecks of time;
all the light of sacred story
gathers round its head sublime.
SONG: THE OLD RUGGED CROSS
Artist: Liverpool Cathedral Choir, massed choirs from Merseyside
Words/Music: Bennard/Bennard
Recording: Virgin 759031
On a hill far away stood an old rugged cross,
the emblem of suffering and shame;
and I love that old cross where the dearest and best
for a world of lost sinners was slain.

Refrain
So I'll cherish the old rugged cross,
till my trophies at last I lay down;
I will cling to the old rugged cross,
and exchange it some day for a crown.

O the old rugged cross, so despised by the world,
has a wondrous attraction for me;
for the dear Lamb of God left his glory above
to bear it to dark Calvary.
Refrain

In the old rugged cross, stained with blood so divine,
a wondrous beauty I see,
for 'twas on that old cross Jesus suffered and died,
to pardon and sanctify me.
Refrain

To the old rugged cross I will ever be true,
its shame and reproach gladly bear;
then he'll call me some day to my home far away,
where his glory forever I'll share.
Refrain
SONG: LIFT HIGH THE CROSS
Artist: Choir of Sacred Heart Cathedral, Wellington
Words/Music: Kitchin revised Newbolt/Nicholson
Recording: RNZ
Refrain
Lift high the cross, the love of Christ proclaim
till all the world adore his sacred name.
Come, brethren follow where our Saviour trod,
our king victorious, Christ, the son of God.
Refrain

Led on their way by this triumphant sign,
the hosts of God in conquering ranks combine.
Refrain

Each newborn soldier of the Crucified
bears on the brow the seal of him who died.
Refrain

From north and south, from east and west they raise
in growing unison their songs of praise.
Refrain

For thy blest Cross which doth for all atone
creation's praises rise before thy throne.
Refrain
SONG: JESU, LOVER OF MY SOUL
Artist: Choir of St Chad's Cathedral, Birmingham
Words/Music: C Wesley/J Parry
Recording: Priory 723
Jesus, lover of my soul,
let me to thy bosom fly,
while the nearer waters roll,
while the tempest still is high.
Hide me, O my saviour, hide,
till the storm of life is past;
safe into the haven guide;
O receive my soul at last.

Other refuge have I none,
hangs my helpless soul on thee;
leave, ah! leave me not alone,
still support and comfort me.
All my trust on thee is stayed,
all my help from thee I bring;
cover my defenceless head
with the shadow of thy wing.

Plenteous grace with thee is found,
grace to cover all my sin;
let the healing streams abound;
make and keep me pure within.
Thou of life the fountain art,
freely let me take of thee;
spring thou up within my heart;
rise to all eternity.
SONG: THE KING OF LOVE MY SHEPHERD IS
Artist: Cambridge Singers, John Rutter (dir), Thelma Owen (harp)
Words/Music: Baker/Trad arr Rutter
Recording: Collegium 880126
The King of love my shepherd is,
whose goodness faileth never.
I nothing lack if I am his,
and he is mine forever.

Where streams of living water flow,
my ransomed soul he leadeth;
and where the verdant pastures grow,
with food celestial feedeth.

Perverse and foolish, oft I strayed,
but yet in love he sought me;
and on his shoulder gently laid,
and home, rejoicing, brought me.

In death's dark vale I fear no ill,
with thee, dear Lord, beside me;
thy rod and staff my comfort still,
thy cross before to guide me.

Thou spreadst a table in my sight;
thy unction grace bestoweth;
and oh, what transport of delight
from thy pure chalice floweth!

And so through all the length of days,
thy goodness faileth never;
Good Shepherd, may I sing thy praise
within thy house forever.
PRAISE THE LORD! YE HEAVENS ADORE HIM
Artist: Jubilate Singers
Words/Music: Anon, Osler/Redhead
Recording: RNZ CD 809
Praise the Lord! ye heav'ns, adore Him;
praise Him, angels, in the height.
Sun and moon, rejoice before Him;
praise Him, all ye stars of light.
Praise the Lord! for He hath spoken;
worlds His mighty voice obeyed.
Law which never shall be broken
for their guidance hath He made.

Praise the Lord for He is glorious;
never shall His promise fail.
God hath made His saints victorious;
sin and death shall not prevail.
Praise the God of our salvation!
Hosts on high, His power proclaim,
heav'n and earth and all creation
laud and magnify His name.

Worship, honor, glory, blessing,
Lord, we offer unto Thee.
Young and old, Thy praise expressing,
in glad homage bend the knee.
All the saints in heav'n adore Thee;
we would bow before Thy throne.
As Thine angels serve before Thee,
so on earth Thy will be done.