Sunday, 30 August 2015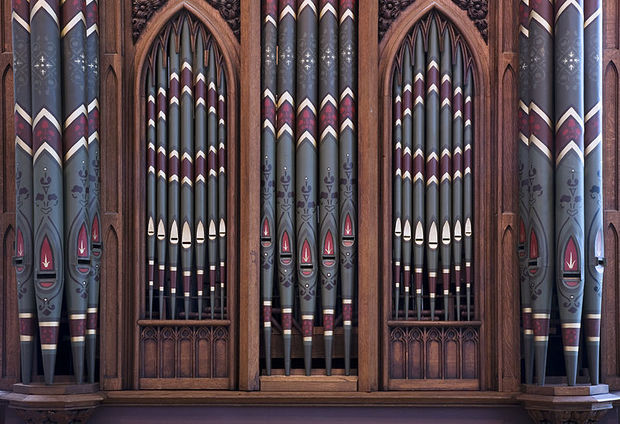 Pipe organ detail, Berlin. Image by Jorge Royan. Source: Wikimedia Commons.
7:30 AM.A selection of traditional and modern hymns. National Organ Month is nearly upon us, and in this week's programme there's a special focus on this 'king of instruments'. Audio
NATIONAL ORGAN MONTH - SEPTEMBER 2015
For more information on the organs played in today's programme, click on the links below
SONG: FOR ALL THE SAINTS
Artist: Choir of Wells Cathedral, Malcolm Archer (dir), Rupert Gough (Henry Willis organ)
Words/Music: How/Vaughan Williams
Recording: Hyperion 711210
For all the saints, who from their labours rest;
who thee by faith before the world confessed,
thy Name, O Jesus, be forever blest.
Alleluia! Alleluia!

Thou wast their rock, their fortress and their might;
thou, Lord, their Captain in the well-fought fight;
thou, in the darkness drear, their one true Light.
Alleluia! Alleluia!

Oh, may thy soldiers, faithful, true, and bold,
fight as the saints who nobly fought of old,
and win, with them, the victor's crown of gold.
Alleluia! Alleluia!

But lo! there breaks a yet more glorious day;
the saints triumphant rise in bright array;
the King of glory passes on his way.
Alleluia! Alleluia!

From earth's wide bounds, from ocean's farthest coast,
through gates of pearl streams in the countless host,
singing to Father, Son and Holy Ghost,
Alleluia! Alleluia!
SONG: O THOU WHO CAMEST FROM ABOVE
Artist: Cantus Choro, Peter Chapman (dir), Geoffrey Cox (JE Dodd organ)
Words/Music: C Wesley/SS Wesley
Recording: Move 743142
O Thou who camest from above,
the pure celestial fire to impart
kindle a flame of sacred love
upon the mean altar of my heart.

There let it for thy glory burn
with inextinguishable blaze,
and trembling to its source return,
in humble prayer and fervent praise.

Jesus, confirm my heart's desire
to work and speak and think for thee;
still let me guard the holy fire,
and still stir up thy gift in me.

Ready for all thy perfect will,
my acts of faith and love repeat,
till death thy endless mercies seal,
and make my sacrifice complete.
SONG: O SING UNTO THE LORD A NEW SONG
Artist: Choir of Westminster Abbey, Martin Neary (dir), Andrew Lumsden (Harrison and Harrison organ)
Words/Music: Psalm 149/I Atkins
Recording: Virgin 545036
149 Praise ye the Lord. Sing unto the Lord a new song, let the congregation of saints praise him.
2 Let Israel rejoice in him that made him: and let the children of Zion be joyful in their King.
3 Let them praise his name in the dance: let them sing praises unto him with tabret and harp.
4 For the Lord taketh pleasure in his people: and helpeth the meek-hearted.
5 Let the saints be joyful in glory: let them rejoice in their beds.
6 Let the high praises of God be in their mouth, and a two-edged sword in their hands;
7 To be avenged of the heathen, and to rebuke the people;
8 To bind their kings with chains, and their nobles with links of iron;
9 That they may be avenged of them: Such honour have all his saints.
SONG: FAIREST LORD JESUS
Artist: Choir of Yorkminster Park Baptist Church, Catherine Palmer (dir), Ronald Jordan (Casavant organ)
Words/Music: Anon/Trad
Recording: Marquis 181175
Fairest Lord Jesus, ruler of all nature,
O thou of God and man the Son,
thee will I cherish, thee will I honour,
thou, my soul's glory, joy and crown.

Fair are the meadows, fairer still the woodlands,
robed in the blooming garb of spring:
Jesus is fairer, Jesus is purer,
who makes the woeful heart to sing.

Fair is the sunshine, fairer still the moonlight,
and fair the twinkling, starry host;
Jesus shines brighter, Jesus shines purer,
than all the angels heaven can boast.

All fairest beauty, heavenly and earthly,
wondrously, Jesus, is found in thee;
none can be nearer, fairer or dearer,
than thou, my Saviour, art to me.
SONG: THROUGH ALL THE CHANGING SCENES OF LIFE
Artist: Choir of St Mary's Episcopal Cathedral, Edinburgh, Denis Townhill (dir), Peter Backhouse (Henry Willis organ)
Words/Music: Tate/Smart
Recording: Priory PRCD 376
Through all the changing scenes of life,
in trouble and in joy,
the praises of my God shall still
my heart and tongue employ.

O magnify the Lord with me,
with me exalt his name;
when in distress to him I called,
he to my rescue came.

The hosts of God encamp around
the dwellings of the just;
deliverance he affords to all
who on his succour trust.

O make but trial of his love;
experience will decide
how blest are they, and only they
who in his truth confide.

Fear him, ye saints, and you will then
have nothing else to fear;
make you his service your delight;
your wants shall be his care.

To father, son and Holy Ghost
The God whom we adore
Be glory, as it was, is now
And shall be evermore.
SONG: THE DAY THOU GAVEST, LORD, IS ENDED
Artist: Choir of St John's, Elora, Noel Edison (dir), Paul Halley (Karn-Warren organ)
Words/Music: Ellerton/Scholefield
Recording: Hyperion 112105
The day thou gavest, Lord, is ended,
The darkness falls at Thy behest;
To Thee our morning hymns ascended,
Thy praise shall hallow now our rest.

We thank Thee that Thy Church unsleeping,
While earth rolls onward into light,
Through all the world her watch is keeping,
And rests not now by day or night.

The sun, that bids us rest, is waking
Our brethren 'neath the western sky,
And hour by hour fresh lips are making
Thy wondrous doings heard on high.

So be it, Lord; Thy throne shall never,
Like earth's proud empires, pass away:
But stand, and rule, and grow for ever,
Till all Thy creatures own Thy sway.
SONG: CHORALE PRELUDE ON RHOSYMEDRE
Artist: Michael Stewart (William Hill organ, ChristChurch Cathedral)
Music: Vaughan Williams
Recording: Private MS 2001A
SONG: GIVE TO OUR GOD IMMORTAL PRAISE
Artist: Choir of St Paul's Cathedral, Dunedin, Raymond White (Henry Willis III organ)
Words/Music: Watts/Griffiths
Recording: Ely 105
Give to our God immortal praise:
mercy and truth are all his ways;
wonders of grace to God belong;
repeat his mercies in your song.

Give to the Lord of lords renown;
the King of kings with glory crown:
his mercies ever shall endure,
when lords and kings are known no more.

He sent His Son with power to save
from guilt and darkness and the grave;
wonders of grace to God belong;
repeat his mercies in your song.

Through this vain world he guides our feet,
and leads us to his heavenly seat:
his mercies ever shall endure,
when this our world shall be no more.