Sunday, 23 August 2015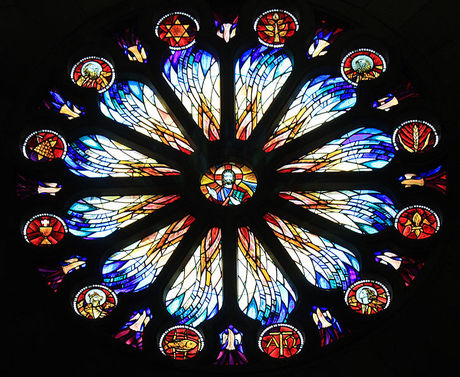 The Rose Window, Nelson Cathedral, designed by Beverley Shore-Bennett of Wellington.
Image by Mike Cox. Source: Wikimedia Commons.
7:30 AM.A selection of traditional and modern hymns. Some peace-themed hymns in this week's programme, including Carl Daw's hymn O Day of Peace set to the tune 'Jerusalem', and John Rutter's benediction The… Read more Audio
SONG: PRAISE TO THE LORD, THE ALMIGHTY
Artist: Choir of Westminster Abbey
Words/Music: Neander trans Winkworth/Anon
Recording: Hyperion 712801
Praise to the Lord, the Almighty, the King of creation.
O my soul, praise him, for he is thy health and salvation:
All ye who hear,
brothers and sisters draw near,
praise him in glad adoration.

Praise to the Lord, who o'er all things so wondrously reigneth
shelters thee under his wings, yea, so gently sustaineth:
hast thou not seen
all that his people have been
granted in what he ordaineth?

Praise to the Lord, who doth prosper thy work and defend thee;
surely his goodness and mercy here daily attend thee:
ponder anew
what the Almighty can do,
if with his love he befriend thee.

Praise to the Lord! O let all that is in me adore him!
All that hath life and breath come now with praises before him!
Let the Amen
sound from his people again:
gladly for aye we adore him.
SONG: JESUS LIVES! THY TERRORS NOW
Artist: Choir of Selwyn College, Cambridge/Sarah MacDonald (dir), Daveth Clark (org)
Words/Music: Gellert trans Cox/Gauntlett
Recording: Priory PRCD 714
Jesus lives! thy terrors now
Can, O Death, no more appal us;
Jesus lives! by this we know
Thou, O Grave, canst not enthrall us.
Alleluia!

Jesus lives! henceforth is death
But the gate of life immortal;
This shall calm our trembling breath,
When we pass its gloomy portal.
Alleluia!

Jesus lives! for us He died;
Then, alone to Jesus living,
Pure in heart may we abide,
Glory to our Saviour giving.
Alleluia!

Jesus lives! our hearts know well
Naught from us His love shall sever;
Life, nor death, nor powers of hell
Tear us from His keeping ever.
Alleluia!

Jesus lives! to Him the throne
Over all the world is given:
May we go where He is gone,
Rest and reign with Him in Heaven.
Alleluia!
SONG: O DAY OF PEACE
Artist: Choir of All Saints Episcopal Church, Beverly Hills/Thomas Foster (dir), Craig Phillips (org)
Words/Music: Daw/Parry
Recording: Gothic 349074
O day of peace that dimly shines
through all our hopes and prayers and dreams,
guide us to justice, truth, and love,
delivered from our selfish schemes.
May swords of hate fall from our hands,
our hearts from envy find release,
till by God's grace our warring world
shall see Christ's promised reign of peace.

Then shall the wolf dwell with the lamb,
nor shall the fierce devour the small;
as beasts and cattle calmly graze,
a little child shall lead them all.
Then enemies shall learn to love,
all creatures find their true accord;
the hope of peace shall be fulfilled,
for all the earth shall know the Lord.
SONG: HOPE IS OUR SONG
Artist: Viva Voce, John Rosser (dir), Michael Bell (piano)
Words/Music: Murray/Strathdee
Recording: NZ Hymnbook Trust 941300
Refrain:
Nothing, nothing in all creation
can separate us from the love of God.
Nothing, nothing in all creation
can separate us from the love of God.

This is our faith: trouble may break us,
grief overtake us, sickness and death,
this is our creed: no place so distant
God is not present, knowing our need,
Refrain:

Powers of our day, angel and devil,
danger and evil make their own play;
God's love is sure, unseen but seeing
heart of our being, comfort and cure,
Refrain:

Never alone, though human error,
turmoil or terror shake every bone,
hope is our song: hope that is joyous,
born with Christ Jesus, where we belong,
Refrain:
SONG: FATHER, HEAR THE PRAYER WE OFFER
Artist: Choir of Trinity College, Cambridge
Words/Music: Willis/Trad arr Vaughan Williams
Recording: Conifer 75605 51249
Father, hear the prayer we offer:
not for ease that prayer shall be,
but for strength, that we may ever
live our lives courageously.

Not for ever in green pastures
do we ask our way to be ;
but the steep and rugged pathway
may we tread rejoicingly.

Not forever by still waters
would we idly rest and stay;
but would smite the living fountains
from the rocks along our way.

Be our strength in hours of weakness,
in our wanderings be our guide;
through endeavour, failure, danger,
Father, be thou at our side.
SONG: SAVIOUR, AGAIN TO THY DEAR NAME WE RAISE
Artist: Choir of Wells Cathedral, Malcolm Archer (dir), Rupert Gough (organ)
Words/Music: Ellerton/Hopkins
Recording: Hyperion 112105
Saviour, again to Thy dear Name we raise
With one accord our parting hymn of praise;
Guard thou the lips from sin, the hears from shame,
That in this house have called upon thy name.

Grant us thy peace, Lord, through the coming night;
Turn thou for us its darkness into light;
From harm and danger keep thy children free,
For dark and light are both alike to thee.

Grant us thy peace throughout our earthly life,
Peace to thy church from error and from strife;
Peace to our land, the fruit of truth and love;
Peace in each heart, thy Spirit from above.

Thy peace in life, the balm of every pain;
Thy peace in death, the hope to rise again;
Then, when thy voice shall bid our conflict cease,
Call us, O Lord, to thy eternal peace.
SONG: THE PEACE OF GOD
Artist: Cambridge Singers, City of London Sinfonia, John Rutter (conductor)
Words/Music: /Book of Common Prayer/Rutter
Recording: Collegium CSCD 522
The peace of God, which passeth all understanding,
keep your hearts and minds in the knowledge and love of God,
and of his Son Jesus Christ our Lord:
and the blessing of God Almighty, the Father, the Son, and the Holy Ghost,
be amongst you and remain with you always.
Amen.