Sunday, 21 September 2014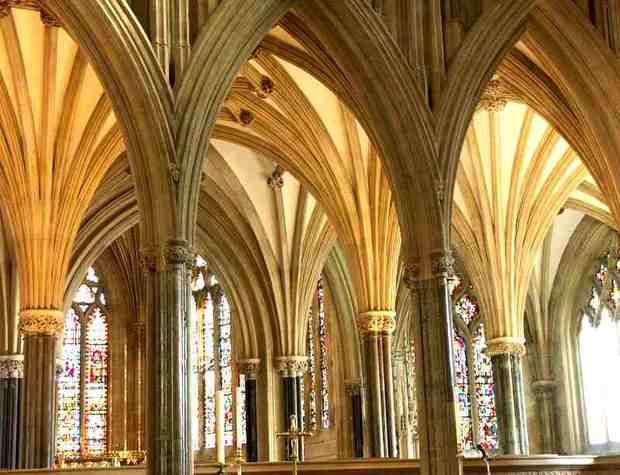 Wells Cathedral, interior - Photo by Mattana
7:30 AM.A selection of traditional and modern hymns. Audio
FIFTEENTH SUNDAY AFTER PENTECOST
TWENTY-FIFTH SUNDAY OF ORDINARY TIME
GOD BLESS OUR LAND
Artist: Viva Voce
Words/Music: Murray/Brinson
Recording: NZ Hymnbook Trust 941300
God bless our land, in every generation,
God bless our people, growing as one nation,
God bless our islands, home and whenua,
Aotearoa,
Aotearoa

God give us hope in common cause and caring,
each bringing treasures, baskets for the sharing,
grieving the wrongs of history no more -
Aotearoa,
Aotearoa

God bless our land, its beauty and its blending
into communities of warm befriending,
proud in the cultures settled on our shore -
Aotearoa,
Aotearoa

God bless the child whose feet are firmly planted
here in our place of freedoms daily granted,
seedbed and soil for peace and aroha -
Aotearoa,
Aotearoa
SONG: HUMBLY I ADORE THEE
Artist: Choir of Grace Cathedral, San Francisco
Words/Music: Aquinas
Recording: Grace Cathedral
Humbly I adore thee,
Verity unseen,
who thy glory hidest
'neath these shadows mean;
lo, to thee surrendered,
my whole heart is bowed,
tranced as it beholds thee,
shrined within the cloud.

Taste and touch and vision
to discern thee fail;
faith, that comes by hearing,
pierces through the veil.
I believe whate'er
the Son of God hath told;
what the Truth hath spoken,
that for truth I hold.

Jesus, whom now hidden,
I by faith behold,
what my soul doth long for,
that thy word foretold;
face to face thy splendor,
I at last shall see,
in the glorious vision,
blessed Lord, of thee.
SONG: WACHET AUF, RUFT UNS DIE STIMME
Artist: Albrecht Mayer (ob), Trinity Baroque, English Concert/Julian Podger
Words/Music: Nicolai/Bach
Recording: Decca 478 1517
SONG: WORSHIP THE LORD IN THE BEAUTY OF HOLINESS
Artist: Cantus Choro
Words/Music: Monsell/Anon
Recording: Move 743142
Worship the Lord in the beauty of holiness;
bow down before Him, His glory proclaim;
gold of obedience and incense of lowliness
bring, and adore him; the Lord is his Name!

Low at his feet lay thy burden of carefulness,
high on his heart he will bear it for thee,
comfort thy sorrows, and answer thy prayerfulness,
guiding thy steps as may best for thee be.

Fear not to enter his courts in the slenderness
of the poor wealth thou wouldst reckon as thine;
truth in its beauty, and love in its tenderness,
these are the offerings to lay on His shrine.

These, though we bring them in trembling and fearfulness,
he will accept for the Name that is dear;
mornings of joy give for evenings of tearfulness,
trust for our trembling, and hope for our fear.

Worship the Lord in the beauty of holiness;
bow down before Him, His glory proclaim;
gold of obedience and incense of lowliness
bring, and adore him; the Lord is his Name!
SONG: ALLELUYA, SING TO JESUS
Artist: Temple Church Choir
Words/Music: Dix/Williams
Recording: EMI 948306
Alleluia! Sing to Jesus;
his the scepter, his the throne;
Alleluia! his the triumph,
his the victory alone!
Hark! The songs of peaceful Zion
thunder like a mighty flood:
"Jesus out of every nation
has redeemed us by his blood."

Alleluia! King eternal,
Lord omnipotent we own;
Alleluia! born of Mary,
earth thy footstool, heaven thy throne.
As within the veil you entered,
robed in flesh, our great high priest;
here on earth both priest and victim
in the Eucharistic feast.
SONG: AT THE NAME OF JESUS
Artist: Wells Cathedral Choir
Words/Music: Noel /Monk
Recording: Hyperion 1121012
At the name of Jesus
every knee shall bow,
every tongue confess him
King of glory now;
'tis the Father's pleasure
we should call him Lord,
who from the beginning
was the mighty Word.

At His voice creation
Sprang at once to sight,
All the angel faces,
All the hosts of light,
Thrones and bright dominions,
Stars upon their way,
All the heav'nly orders
In their great array.

Humbled for a season
to receive a name
from the lips of sinners
unto whom he came,
faithfully he bore it
spotless to the last,
brought it back victorious,
when from death he passed;

Bore it up triumphant,
with its human light,
through all ranks of creatures,
to the central height,
to the throne of Godhead,
to the Father's breast,
filled it with the glory
of that perfect rest.

Christians, this Lord Jesus
shall return again,
with His Father's glory
with His angel train;
for all wreaths of empire
meet upon his brow,
and our hearts confess him
King of glory now.
SONG: IT IS A THING MOST WONDERFUL
Artist: Choir of Trinity College, Cambridge
Composer: How/Trad arr.  Vaughan Williams
Label: Conifer 75605-51249
It is a thing most wonderful,
Almost too wonderful to be,
That God's own Son should come from Heav'n,
And die to save a child like me.

And yet I know that it is true;
He chose a poor and humble lot,
And wept, and toiled, and mourned, and died,
For love of those who loved Him not.

But even could I see Him die,
I could but see a little part
Of that great love, which, like a fire,
Is always burning in His heart.

It is most wonderful to know
His love for me so free and sure;
But 'tis more wonderful to see
My love for Him so faint and poor.

And yet I want to love Thee, Lord;
Oh, light the flame within my heart,
And I will love Thee more and more,
Until I see Thee as Thou art.
SONG: O GOD OF EARTH AND ALTAR
Artist: Choir of Trinity College, Cambridge
Composer: Chesterton/Trad. arr. Vaughan Williams
Label: Conifer 75605-51249
O God of earth and altar,
bow down and hear our cry,
our earthly rulers falter,
our people drift and die;
the walls of gold entomb us,
the swords of scorn divide,
take not thy thunder from us,
but take away our pride.

From all that terror teaches,
from lies of tongue and pen,
from all the easy speeches
that comfort cruel men,
from sale and profanation
of honour, and the sword,
from sleep and from damnation,
deliver us, good Lord!

Tie in a living tether
the prince and priest and thrall,
bind all our lives together,
smite us and save us all;
in ire and exultation
aflame with faith, and free,
lift up a living nation,
a single sword to thee.
SONG: LET US GO IN PEACE
Artist: Viva Voce
Composer: Murray/Bray
Label: NZ Hymnbook Trust 941300
Let us go in your peace,
let us know what is peace
by the power of your love,
by the Spirit's release,
and in all we must face
that can hurt or destroy
let us work for your peace:
kindness, justice and joy.