Sunday, 14 September 2014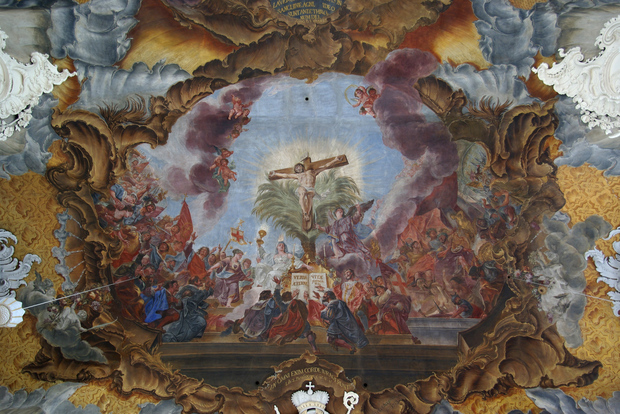 Triumph of the Cross by Christoph Thomas Scheffler - ceiling fresco, St Paulin, Trier, Germany.
Photo by Berthold Werner
7:00 AM.A selection of traditional and modern hymns Audio
FOURTEENTH SUNDAY AFTER PENTECOST
TRIUMPH OF THE CROSS FEAST
SONG: CHRIST IS MADE THE SURE FOUNDATION
Artist: Choir of Westminster Abbey
Words/Music: Anon trans. Neale/Purcell
Recording: Griffin 224018
Christ is made the sure foundation,
Christ the Head and Corner-stone,
Chosen of the Lord, and precious,
Binding all the Church in one,
Holy Sion's help for ever,
And her confidence alone.

All that dedicated city,
Dearly loved of God on high,
In exultant jubilation
Pours perpetual melody;
God the One in Three adoring
In glad hymns eternally.

To this temple, where we call Thee,
Come, O Lord of Hosts, to-day;
With Thy wonted loving-kindness,
Hear Thy servants as they pray;
And Thy fullest benediction
Shed within its walls alway.

Here vouchsafe to all Thy servants
What they ask of Thee to gain,
What they gain from Thee, for ever
With the blessèd to retain,
And hereafter in Thy glory
Evermore with Thee to reign.

Amen
SONG: O HAPPY BAND OF PILGRIMS
Artist: St Chad's Cathedral Choir
Words/Music: St Joseph the Hymnographer trans. Neale/Knecht
Recording: Priory 723
O happy band of pilgrims,
if onward ye will tread
with Jesus as your fellow
to Jesus as your head!

O happy, if ye labour
as Jesus did for men:
O happy, if ye hunger
as Jesus hungered then!

The cross that Jesus carried
he carried as your due:
the crown that Jesus weareth
he weareth it for you.

The faith by which ye see him,
the hope, in which ye yearn,
the love that through all troubles
to him alone will turn,--

What are they, but forerunners
to lead you to his sight?
What are they, save the effluence
of uncreated light?

The trials that beset you,
the sorrows ye endure,
the manifold temptations
that death alone can cure,--

What are they, but his jewels
of right celestial worth?
What are they but the ladder,
set up to heaven on earth?

O happy band of pilgrims,
look upward to the skies,
where such a light affliction
shall win so great a prize.
SONG: THE DAY OF RESURRECTION
Artist: Choir of King's College, Cambridge
Words/Music: St John of Damascus trans. Neale/Trad. (Mainzer Gesangbuch)
Recording: Decca 436927
The day of resurrection!
Earth, tell it out abroad;
the Passover of gladness,
the Passover of God.
From death to life eternal,
from earth unto the sky,
our Christ hath brought us over,
with hymns of victory.

Our hearts be pure from evil,
that we may see aright
the Lord in rays eternal
of resurrection light;
and listening to his accents,
may hear so calm and plain
his own "All hail!" and, hearing,
may raise the victor strain.

Now let the heavens be joyful!
Let earth her song begin!
The round world keep high triumph,
and all that is therein!
Let all things seen and unseen
their notes in gladness blend,
for Christ the Lord is risen,
our joy that hath no end.
SONG: BLESSED JESUS, AT YOUR WORD
Artist: Cantus Choro
Words/Music: Clausnitzer trans. Winkworth/Ahle harm. Bach
Recording: Move 743142
Blessed Jesus, at your word
we are gathered all to hear you.
Let our hearts and minds be stirred
now to seek and love and fear you.
By your gospel pure and holy,
teach us, Lord, to love you solely.

Glorious Lord, yourself impart;
Light of Light, from God proceeding,
open lips and ears and heart;
help us by your Spirit's leading.
Hear the cry your church now raises;
Lord, accept our prayers and praises.
SONG: DECK THYSELF, MY SOUL, WITH GLADNESS
Artist: Choir of Trinity College, Cambridge
Words/Music: Franck trans. Winkworth/Kruger
Recording: Conifer 75605-51249
Deck thyself, my soul, with gladness,
leave the gloomy haunts of sadness,
come into the daylight's splendour,
there with joy thy praises render
unto him whose grace unbounded
hath this wondrous banquet founded;
high o'er all the heavens he reigneth,
yet to dwell with thee he deigneth.

Now I come before thee lowly,
filled with joy most deep and holy,
as with trembling awe and wonder
on thy mighty works I ponder;
how, by mystery surrounded,
depth no one has ever sounded,
none may dare to pierce unbidden
secrets that with thee are hidden.

Sun, who all my life dost brighten;
Light, who dost my soul enlighten;
Joy, the sweetest man e'er knoweth;
Fount, whence all my being floweth:
at thy feet I cry, my maker,
let me a fit partaker
of this blessed food from heaven,
for our good, thy glory, given.

Jesus, bread of life, I pray thee,
let me gladly here obey thee;
never to my hurt invited,
be thy love with love requited;
from this banquet let me measure,
Lord, how vast and deep its treasure;
through the gifts thou here dost give me,
as thy guest in heaven receive me.
SONG: JESU, THE VERY THOUGHT OF THEE
Artist: Choir of St John's, Elora
Composer: Clairvaux trans. Caswall/Slater arr. Halley
Label: Naxos 8.557037
Jesus, the very thought of thee
with sweetness fills the breast;
but sweeter far thy face to see,
and in thy presence rest.

No voice can sing, no heart can frame,
Nor can the memory find,
A sweeter sound than Jesus' Name,
The Saviour of mankind.

O hope of every contrite heart,
O joy of all the meek,
to those who fall, how kind thou art!
How good to those who seek!

But what to those who find? Ah, this
nor tongue nor pen can show;
the love of Jesus, what it is,
none but his loved ones know.

Jesus, our only joy be thou,
as thou our prize wilt be;
Jesus, be thou our glory now,
and through eternity.

Amen
SONG: NOW THANK WE ALL OUR GOD
Artist: St Paul's Cathedral Choir
Composer: Rinkart trans. Winkworth/Kruger
Label: Helios CDH 88036
Now thank we all our God
with heart and hands and voices,
who wondrous things has done,
in whom his world rejoices;
who from our mothers' arms
has blessed us on our way
with countless gifts of love,
and still is ours today.

O may this bounteous God
through all our life be near us,
with ever joyful hearts
and blessed peace to cheer us,
to keep us in his grace,
and guide us when perplexed,
and free us from all ills
of this world in the next.

All praise and thanks to God
the Father now be given,
the Son and Spirit blest,
who reign in highest heaven
the one eternal God,
whom heaven and earth adore;
for thus it was, is now,
and shall be evermore.