Sunday, 17 August 2014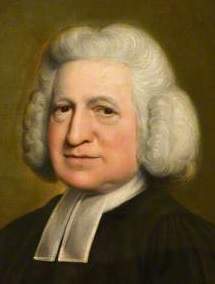 Charles Wesley (1707 - 1788)
7:30 AM.A selection of traditional and modern hymns. Audio
TENTH SUNDAY AFTER PENTECOST
TWENTIETH SUNDAY OF ORDINARY TIME
SONG: AND CAN IT BE
Artist: St Michael's Singers
Words/Music: C Wesley/Campbell
Recording: Kingsway KMCD 583
And can it be that I should gain
An int'rest in the Savior's blood?
Died He for me, who caused His pain?
For me, who Him to death pursued?
Amazing love! how can it be
That Thou, my God, should die for me?

'Tis mystery all! Th'Immortal dies!
Who can explore His strange design?
In vain the firstborn seraph tries
To sound the depths of love divine!
'Tis mercy all! let earth adore,
Let angel minds inquire no more. [Refrain]

He left His Father's throne above,
So free, so infinite His grace;
Emptied Himself of all but love,
And bled for Adam's helpless race;
'Tis mercy all, immense and free;
For, O my God, it found out me. [Refrain]

Long my imprisoned spirit lay
Fast bound in sin and nature's night;
Thine eye diffused a quick'ning ray,
I woke, the dungeon flamed with light;
My chains fell off, my heart was free;
I rose, went forth and followed Thee. [Refrain]

No condemnation now I dread;
Jesus, and all in Him is mine!
Alive in Him, my living Head,
And clothed in righteousness divine,
Bold I approach th'eternal throne,
And claim the crown, through Christ my own. [Refrain]
SONG: O FOR A HEART TO PRAISE MY GOD
Artist: St Michael's Singers
Words/Music: C Wesley/Smith
Recording: Kingsway KMCD 891
O for a heart to praise my God,
a heart from sin set free,
a heart that always feels thy blood
so freely shed for me.

A heart resigned, submissive, meek,
my great Redeemer's throne,
where only Christ is heard to speak,
where Jesus reigns alone.

A humble, lowly, contrite heart,
believing, true, and clean,
which neither life nor death can part
from Christ who dwells within.

A heart in every thought renewed
and full of love divine,
perfect and right and pure and good,
a copy, Lord, of thine.

Thy nature, gracious Lord, impart;
come quickly from above;
write thy new name upon my heart,
thy new, best name of Love.
SONG: FATHER HEAR THE PRAYER WE OFFER
Artist: Choir of Trinity College, Cambridge
Words/Music: Willis/Trad arr Vaughan Williams
Recording: Conifer 75605 51249
Father, hear the prayer we offer:
not for ease that prayer shall be,
but for strength, that we may ever
live our lives courageously.

Not for ever in green pastures
do we ask our way to be ;
but the steep and rugged pathway
may we tread rejoicingly.

Not forever by still waters
would we idly rest and stay;
but would smite the living fountains
from the rocks along our way.

Be our strength in hours of weakness,
in our wanderings be our guide;
through endeavour, failure, danger,
Father, be thou at our side.
SONG: O THOU WHO CAMEST FROM ABOVE
Artist: Choir of St John's Church, Elora
Words/Music: C Wesley/SS Wesley
Recording: Naxos 8.557037
O Thou who camest from above,
the pure celestial fire to impart
kindle a flame of sacred love
upon the mean altar of my heart

There let it for thy glory burn
with inextinguishable blaze,
and trembling to its source return,
in humble prayer and fervent praise.

Jesus, confirm my heart's desire
to work and speak and think for thee;
still let me guard the holy fire,
and still stir up thy gift in me.

Ready for all thy perfect will,
my acts of faith and love repeat,
till death thy endless mercies seal,
and make my sacrifice complete.
SONG: VERLEIH UNS FRIEDEN
Artist: Choir of St John's Church, Elora
Words/Music: Luther/Mendelssohn
Recording: Naxos 8.557037
Verleih uns Frieden gnädiglich,
Herr Gott, zu unsern Zeiten.
Es ist doch ja kein andrer nicht,
der für uns könnte streiten,
denn du, unser Gott, alleine.
English Translation:
In these our days so perilous,
Lord, peace in mercy send us;
No God but thee can fight for us,
No God but thee defend us;
Thou our only God and Saviour.
SONG: FATHER OF EVERLASTING GRACE
Artist: Choir of the Methodist Central Hall, Westminster
Composer: C Wesley/Reay
Label: Abbey 280828
Father of everlasting grace,
Thy goodness and Thy truth we praise,
Thy goodness and Thy truth we prove;
Thou hast, in honor of Thy Son,
The gift unspeakable sent down,
The Spirit of life, and power and love.

Send us the Spirit of Thy Son,
To make the depths of Godhead known,
To make us share the life divine;
Send Him the sprinkled blood to apply,
Send Him our souls to sanctify,
And show and seal us ever Thine.

So shall we pray, and never cease;
So shall we thankfully confess
Thy wisdom, truth, and power, and love;
With joy unspeakable adore,
And bless and praise Thee evermore,
And serve Thee as Thy hosts above:

Till, added to that heavenly choir,
We raise our songs of triumph higher,
And praise Thee in a nobler strain,
Out-soar the first-born seraph's flight,
And sing, with all our friends in light,
Thy everlasting love to man.
SONG: LOVE DIVINE, ALL LOVES EXCELLING
Artist: Cambridge Singers
Composer: C Wesley/Prichard
Label: Collegium 880126
Love divine, all loves excelling,
Joy of heaven, to earth come down,
fix in us thy humble dwelling;
all thy faithful mercies crown.
Jesus, thou art all compassion;
pure, unbounded love thou art;
visit us with thy salvation;
enter every trembling heart.

Breathe, O breathe thy loving Spirit
into every troubled breast;
let us all in thee inherit;
let us find the promised rest.
Take away the love of sinning;
Alpha and Omega be;
end of faith, as its beginning,
set our hearts at liberty.

Come, Almighty, to deliver;
let us all thy life receive;
suddenly return, and never,
nevermore thy temples leave.
Thee we would be always blessing,
serve thee as thy hosts above,
pray, and praise thee without ceasing,
glory in thy perfect love.

Finish then thy new creation;
pure and spotless let us be;
let us see thy great salvation
perfectly restored in thee:
changed from glory into glory,
till in heaven we take our place,
till we cast our crowns before thee,
lost in wonder, love, and praise.