Sunday, 3 August 2014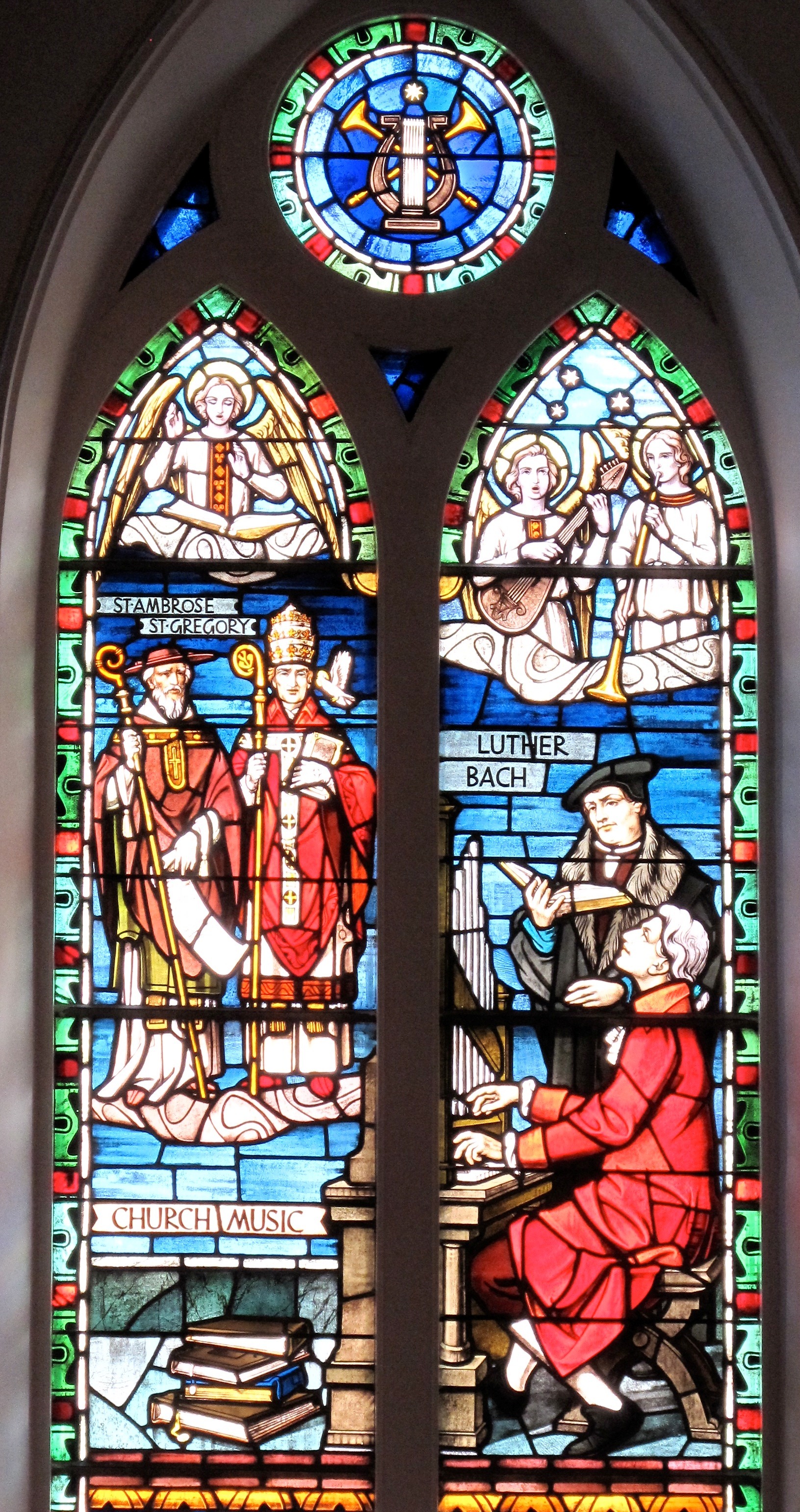 Church Music stained glass window at St Matthew's Lutheran Church in Charleston, SC.
Designed by the studio of Franz Mayer & Co. of Munich / Photo by Cadetgray.
7:30 AM.A selection of traditional and modern hymns Audio
EIGHTH SUNDAY AFTER PENTECOST
EIGHTEENTH SUNDAY OF ORDINARY TIME
SONG: WHEN IN OUR MUSIC GOD IS GLORIFIED
Artist: Cathedral Choral Society, Washington National Cathedral
Words/Music: Green/Stanford
Recording: Gothic G 49112
When in our music God is glorified,
and adoration leaves no room for pride,
it is as though the whole creation cried:
Alleluia!

How often, making music, we have found
a new dimension in the world of sound,
as worship moved us to a more profound
Alleluia!

So has the church, in liturgy and song,
in faith and love, through centuries of wrong,
borne witness to the truth in every tongue:
Alleluia!
SONG: JOYFUL, JOYFUL, WE ADORE THEE
Artist: Mormon Tabernacle Choir
Words/Music: Van Dyke/Beethoven
Recording: Bonneville 519602
Joyful, joyful, we adore You,
God of glory, Lord of love;
Hearts unfold like flow'rs before You,
Op'ning to the sun above.
Melt the clouds of sin and sadness;
Drive the dark of doubt away;
Giver of immortal gladness,
Fill us with the light of day!

All Your works with joy surround You,
Earth and heav'n reflect Your rays,
Stars and angels sing around You,
Center of unbroken praise;
Field and forest, vale and mountain,
Flow'ry meadow, flashing sea,
Singing bird and flowing fountain
Praising You eternally!

Always giving and forgiving,
Ever blessing, ever blest,
Well-spring of the joy of living,
Ocean-depth of happy rest!
Loving Father, Christ our Brother,
Let Your light upon us shine;
Teach us how to love each other,
Lift us to the joy divine.
SONG: TELL OUT, MY SOUL
Artist: Wells Cathedral Choir
Words/Music: Dudley-Smith/Greatorex
Recording: Hyperion CDP 12105
Tell out, my soul, the greatness of the Lord!
Unnumbered blessings give my spirit voice;
tender to me the promise of his word;
in God my Savior shall my heart rejoice.

Tell out, my soul, the greatness of his name!
Make known his might, the deeds his arm has done;
his mercy sure, from age to age the same;
his holy name the Lord, the Mighty One.

Tell out, my soul, the greatness of his might!
Powers and dominions lay their glory by.
Proud hearts and stubborn wills are put to flight,
the hungry fed, the humble lifted high.

Tell out, my soul, the glories of his word!
Firm is his promise, and his mercy sure.
Tell out, my soul, the greatness of the Lord
to children's children and forevermore!
SONG: O LORD, HEAR MY PRAYER
Artist: Taize Community Choir
Words/Music: Berthier
Recording: Integrity Music
O Lord, hear my prayer,
O Lord, hear my prayer;
when I call answer me.
O Lord, hear my prayer,
O Lord, hear my prayer;
come and listen to me.
SONG: BE STILL, MY SOUL
Artist: Cantus Choro
Words/Music: Von Schlegel trans Borthwick/Sibelius
Recording: Move 743142
Be still, my soul: the Lord is on thy side.
Bear patiently the cross of grief or pain.
Leave to thy God to order and provide;
In every change, He faithful will remain.
Be still, my soul: thy best, thy heav'nly Friend
Through thorny ways leads to a joyful end.

Be still, my soul: when dearest friends depart,
And all is darkened in the vale of tears,
Then shalt thou better know His love, His heart,
Who comes to soothe thy sorrow and thy fears.
Be still, my soul: thy Jesus can repay
From His own fullness all He takes away.

Be still, my soul: the hour is hast'ning on
When we shall be forever with the Lord.
When disappointment, grief, and fear are gone,
Sorrow forgot, love's purest joys restored.
Be still, my soul: when change and tears are past
All safe and blessed we shall meet at last.
SONG: LORD, YOUR ALMIGHTY WORD
Artist: Cantus Choro
Composer: Marriott/Giardini
Label: Move 743142
Lord, your almighty word,
chaos and darkness heard,
and took their flight:
hear us, we humbly pray,
and where the gospel-day
sheds not its glorious ray,
let there be light.

Saviour, who came to bring
on your redeeming wing
healing and sight,
health to the sick in mind,
sight to the inly blind:
now to all humankind
let there be light.

Spirit of truth and love,
life-giving, holy dove,
speed forth your flight;
move o'er the water's face,
bearing the lamp of grace
and in earth's darkest place
let there be light.

Blessèd and holy Three,
glorious Trinity,
Wisdom, Love, Might,
boundless as ocean's tide
rolling in fullest pride
through the world far and wide,
let there be light.
SONG: PSALM 23
Artist: Scottish Philharmonic Singers
Composer: Trad/Campbell
Label: Abbey 282830
The Lord's my Shepherd; I'll not want.
He makes me down to lie
In pastures green; He leadeth me
The quiet waters by.

My soul He doth restore again;
And me to walk doth make
Within the paths of righteousness,
E'en for His own name's sake.

Yea, though I walk through death's dark vale,
Yet will I fear no ill;
For Thou art with me, and Thy rod
And staff me comfort still.

Goodness and mercy all my life
Shall surely follow me;
And in God's house Forevermore
My dwelling place shall be.
SONG: I VOW TO THEE, MY COUNTRY
Artist: Choir of Trinity College, University of Melbourne
Words/Music: Spring-Rice/Holst
CD Label: ABC 476568
I vow to thee, my country, all earthly things above,
entire and whole and perfect, the service of my love:
the love that asks no question, the love that stands the test,
that lays upon the altar the dearest and the best;
the love that never falters, the love that pays the price,
the love that makes undaunted the final sacrifice.

And there's another country, I've heard of long ago,
most dear to them that love her, most great to them that know;
we may not count her armies, we may not see her King;
her fortress is a faithful heart, her pride is suffering;
and soul by soul and silently her shining bounds increase,
and her ways are ways of gentleness and all her paths are peace.
SONG: A PRAYER OF ST PATRICK
Artist: Cambridge Singers
Words/Music: Alexander/Rutter
CD Label: Collegium CSCD 515
Christ be with me, Christ within me,
Christ behind me, Christ before me,
Christ beside me, Christ to win me,
Christ to comfort and restore me,
Christ above me, Christ beneath me,
Christ in quiet, Christ in danger,
Christ in hearts of all that love me,
Christ in mouth of friend and stranger,
Christ in mouth of friend and stranger.