Sunday, 6 July 2014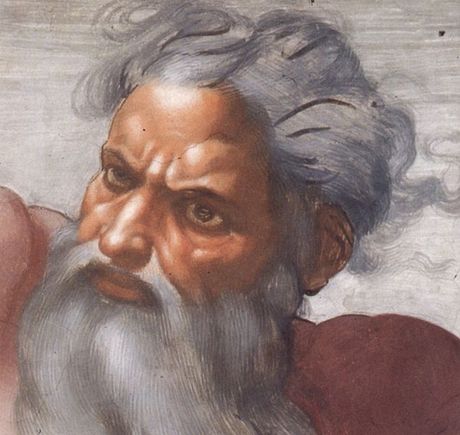 Creation of the Sun and Moon (detail) by Michelangelo. Sistine Chapel (Rome).
7:30 AM.A selection of traditional and modern hymns Audio
SONG: AWAKE, MY SOUL, AND WITH THE SUN
Artist: Choir of Norwich Cathedral
Words/Music: Ken/Barthelemon
Recording: Priory PRCD 705
Awake, my soul, and with the sun
Thy daily stage of duty run;
Shake off dull sloth, and joyful rise
To pay they morning sacrifice.
Redeem thy mis-spent time that's past,
Live this day as if 'twere thy last:
Improve thy talent with due care;
For the great day thyself prepare.
Let all they converse be sincere,
Thy conscience as the noon-day clear;
Think how all-seeing God thy ways
And all thy secret thoughts surveys.
Awake, awake, ye heavenly choir,
May your devotion me inspire,
That I like you my age may spend,
Like you may on my God attend.
Praise God, from whom all blessings flow,
Praise him, all creatures here below,
Praise him above, ye heavenly host,
Praise Father, Son, and Holy Ghost.  Amen.
SONG: ALL PEOPLE THAT ON EARTH DO DWELL
Artist: Choir of King's College, Cambridge
Words/Music: Kethe/Bourgeois
Recording: EMI 948 306
All people that on earth do dwell,
sing to the Lord with cheerful voice;
him serve with mirth, his praise forth tell.
Come ye before him and rejoice.
Know that the Lord is God indeed;
without our aid he did us make;
we are his folk; he doth us feed,
and for his sheep he doth us take.
O enter then his gates with praise;
approach with joy his courts unto;
praise, laud, and bless his name always,
for it is seemly so to do.
For why? The Lord our God is good;
his mercy is forever sure;
his truth at all times firmly stood,
and shall from age to age endure.
SONG: PSALM 23
Artist: Masaaki Suzuki, playing the Marc Garnier organ of Shinko-Kyokai, Kobe
Words/Music: Genevan Psalter harmonized by Goudimel
Recording: BIS CD 1614
SONG: BROTHER JAMES' AIR
Artist: Clare College Chapel Choir
Words/Music: Rous/Bain arr Jacob
Recording: Guild 547109
The Lord's my Shepherd; I'll not want.
He makes me down to lie
In pastures green; He leadeth me
The quiet waters by.
My soul He doth restore again;
And me to walk doth make
Within the paths of blessedness,
E'en for His own name's sake.
Yea, though I pass through shadowed vale,
Yet will I fear no ill;
For Thou art with me, and Thy rod
And staff me comfort still.
My table Thou hast furnished
In presence of my foes;
My head with oil Thou dost anoint,
And my cup overflows.
Goodness and mercy all my days
Will surely follow me;
And in my heart Forevermore
Thy dwelling place shall be.
SONG: CHRIST, WHOSE GLORY FILLS THE SKIES
Artist: Choir of St John's, Elora
Words/Music: C Wesley/Walther arr Halley
Recording: Naxos 8.572540
Daystar, in my heart appear,
Christ, whose glory fills the skies,
Christ the true, the only Light,
Sun of Righteousness, arise!
Triumph o'er the shades of night;
Dayspring from on high, be near;
Daystar, in my heart appear.
Christ the Glory
Christ the Light
Christ the Dayspring
Christ the Sun.
Dark and cheerless is the morn
unaccompanied by thee;
joyless is the day's return,
till thy mercy's beams I see,
till they inward light impart,
glad my eyes, and warm my heart.
Visit then this soul of mine!
Pierce the gloom of sin and grief!
Fill me, Radiancy Divine;
scatter all my unbelief;
more and more thyself display,
shining to the perfect day.
Christ the Glory
Christ the Light
Christ the Dayspring
Christ the Sun.
SONG: I KNOW THAT MY REDEEMER LIVETH
Aritst: St. Michael's Singers
Words/Music: C Wesley/Norton
Recording: Kingsway KMCD 583
I know that my Redeemer lives,
And ever prays for me;
A token of His love he gives,
A pledge of liberty.
I find Him lifting up my head;
He brings salvation near;
His presence makes me free indeed,
And He will soon appear.
He wills that I should holy be:
What can withstand His will?
The counsel of His grace in me
He surely shall fulfil.
Jesus, I hang upon Thy Word:
I steadfastly believe
Thou wilt return and claim me, Lord,
And to Thyself receive.
Thy love I soon expect to find
In all its depth and height.
To comprehend the eternal mind,
And grasp the Infinite.
When God is mine, and I am His,
Of paradise possessed,
I taste unutterable bliss
And everlasting rest.
SONG: A MIGHTY FORTRESS IS OUR GOD
Artist: Cambridge Singers, City of London Sinfonia Brass,
Words/Music: Luther/Luther arr Rutter
Recording: Collegium 880126
A mighty fortress is our God,
a bulwark never failing;
our helper he, amid the flood
of mortal ills prevailing.
For still our ancient foe
does seek to work us woe;
his craft and power are great,
and armed with cruel hate,
on earth is not his equal.
Did we in our own strength confide,
our striving would be losing,
were not the right Man on our side,
the Man of God's own choosing.
Dost ask who that may be?
Christ Jesus, it is he;
Lord Sabaoth his name,
from age to age the same;
and he must win the battle.
And though this world, with devils filled,
should threaten to undo us,
we will not fear, for God hath willed
his truth to triumph through us.
The prince of darkness grim,
we tremble not for him;
his rage we can endure,
for lo! his doom is sure;
one little word shall fell him.
That Word above all earthly powers
no thanks to them abideth;
the Spirit and the gifts are ours
through him who with us sideth.
Let goods and kindred go,
this mortal life also;
the body they may kill:
God's truth abideth still;
his kingdom is forever.