Sunday, 29 June 2014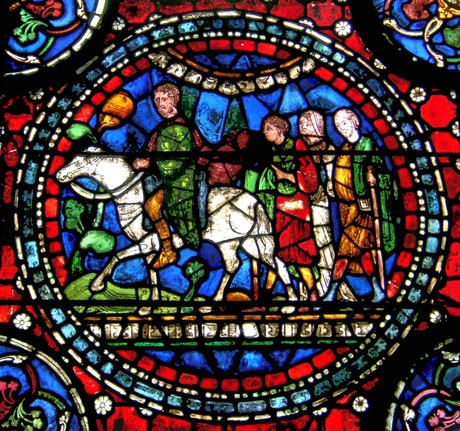 Pilgrims in a window, Canterbury Cathedral
7:30 AM.A selection of traditional and modern hymns Audio
SONG: AMAZING GRACE
Artist: St Michael Singers
Words/Music: Newton/Trad
Recording: Kingsway KMCD 599
Amazing grace! how sweet the sound.
That saved a wretch like me!
I once was lost, but now am found.
Was blind but now I see.
Twas grace that taught my heart to fear,
And grace my fears relieved:
How precious did that grace appear
The hour I first believed!
Through many dangers, toils and snares
I have already come;
'Tis grace has brought me safe thurs far,
And grace will lead me home.
The Lord has promised good to me.
His word my hope secures;
He will my shield and portion be
As long as life endures.
Yes, when this flesh and heart shall fail,
And mortal life shall cease,
I shall possess within the veil
A life of joy and peace.
When I've been there ten thousand years,
Bright shining as the sun,
I've no less days to sing God's praise
Than when I first begun.
SONG: O FOR A CLOSER WALK WITH GOD
Artist: St Michael Singers
Words/Music: Cowper/Gardiner
Recording: Kingsway KMCD 599
O for a closer walk with God,
A calm and heavenly frame.
A light to shine upon the road
That leads me to the Lamb!
What peaceful hours I once enjoyed!
How sweet their memory still!
But they have left an aching void
The world can never fill.
Return, O holy Dove! return,
Sweet messenger of rest!
I hate the sins that made Thee mourn,
And drove Thee from my breast.
The dearest idol I have known,
Whate'er that idol be,
Help me to tear it from Thy throne,
And worship only Thee.
So shall my walk be close with God,
Calm and serene my frame:
So purer light shall mark the road
That leads me to the Lamb.
SONG: IN THIS FAMILIAR PLACE
Artist: St Peter's Anglican Church, Takapuna
Words/Music: Gibson
Recording: Private
In this familiar place
I know the mystery of your grace.

Refrain:
For the love that I receive,
for the truth that I believe,
I praise and thank you
for this here and now.

In halting song and word
the music of your voice is heard.
Refrain

Among these friends of mine
I taste the company divine.
Refrain

Within this narrow sphere
I learn that you are everywhere.
Refrain
SONG: LET US BREAK BREAD TOGETHER
Artist: Mormon Tabernacle Choir
Words/Music: Trad arr Dett
Recording: Bonneville 510097
Let us break bread together on our knees.
Let us break bred together on our knees.
Refrain:
When I fall on my knees with my face to the rising sun,
O Lord, have mercy on me.
Let us drink wine together on our knees.
Let us drink wine together on our knees.
Refrain
Let us praise God together on our knees.
Let us praise God together on our knees.
Refrain
SONG: JESU BLEIBET MEINE FREUDE
Artist: Trinity Baroque, The English Concert/Albrecht Mayer
Words/Music: Bach
Recording: Decca 478 1517
Jesus bleibet meine Freude,
meines Herzens Trost und Saft,
Jesus wehret allem Leide,
er ist meines Lebens Kraft,
meiner Augen Lust und Sonne,
meiner Seele Schatz und Wonne;
darum laß' ich Jesum nicht
aus dem Herzen und Gesicht.
SONG: PILGRIM'S HYMN
Aritst: Choir of St John's, Elora
Words/Music: Browne/Paulus
Naxos 8.572540
Even before we call on Your name
To ask You, O God,
When we seek for the words to glorify You,
You hear our prayer;
Unceasing love, O unceasing love,
Surpassing all we know.
Glory to the father,
and to the Son,
And to the Holy Spirit.
Even with darkness sealing us in,
We breathe Your name,
And through all the days that follow so fast,
We trust in You;
Endless Your grace, O endless Your grace,
Beyond all mortal dream.
Both now and forever,
And unto ages and ages,
Amen
SONG: LIGHT OF THE LONELY PILGRIM'S HEART
Artist: Choir of Christ's College, Cambridge
Words/Music: Denny/Stewart
Recording: Priory PRCD 721
Light of the lonely pilgrim's heart,
Star of the coming day,
Arise, and with Thy morning beams
Chase all our griefs away.
Bid the whole earth, responsive now
To the bright world above,
Break forth in rapturous strains of joy
In memory of Thy love.
Thine was the cross, with all its fruits
Of grace and peace Divine:
Be Thine the crown of glory now,
The palm of victory Thine.
See how they fair creation groans,
The sky, the earth, the sea,
In unison with all our heart,
And calls aloud for thee.
Come, blessed Lord, let every shore
And answering island sing
The praises of thy royal name,
And own thee as their king.
SONG: HE WHO WOULD VALIANT BE
Artist: Choir of Christ's College, Cambridge
Words/Music: Bunyan/Trad arr Vaughan Williams
Recording: Priory PRCD 721
He who would valiant be
'Gainst all disaster,
Let him in constancy
Follow the Master.
There's no discouragement
Shall make him once relent
His first avowed intent
To be a pilgrim.
Who so beset him round
With dismal stories,
Do but themselves confound--
His strength the more is.
No foes shall stay his might,
Though he with giants fight;
He will make good his right
To be a pilgrim.
Since, Lord, thou dost defend
Us with thy Spirit
We know we at the end
Shall life inherit.
Then, fancies, flee away!
I'll fear not what men say,
I'll labour night and day
To be a pilgrim.