Blues from Madagascar and West Africa feature in this week's Global Sounds.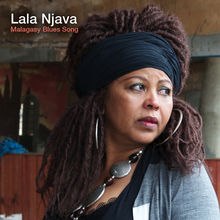 Lala Njava sings a Malagasy-style blues inspired by a woman called Mama Sana, the resident shaman in the village where she grew up.
And Alhousseini Anivolla, guitarist in the popular Niger-based band Etran Finatawa, takes centre stage in a solo album of Saharan desert blues.

Music details
NJAVA: Soa Gnanay - Lala Njava (Riverboat TUGCD 1069)
NJAVA: Voatse - Lala Njava (Riverboat TUGCD 1069)
NJAVA: Kabary Seza - Lala Njava (Riverboat TUGCD 1069)
NJAVA: Hasosora - Lala Njava (Riverboat TUGCD 1069)
NJAVA: Baovola - Lala Njava (Riverboat TUGCD 1069)
NJAVA: Mosera - Lala Njava (Riverboat TUGCD 1069)
ANIVOLLA: Imoussanan - Alhousseini Anivolla (Riverboat TUGCD 1067)
ANIVOLLA: Imadan Id'Madiakan - Alhousseini Anivolla (Riverboat TUGCD 1067)
ANIVOLLA: Attarech - Alhousseini Anivolla (Riverboat TUGCD 1067)
ANIVOLLA: Emassli Na Taregh - Alhousseini Anivolla (Riverboat TUGCD 1067)
ANIVOLLA: Iblis Odouad - Alhousseini Anivolla (Riverboat TUGCD 1067)