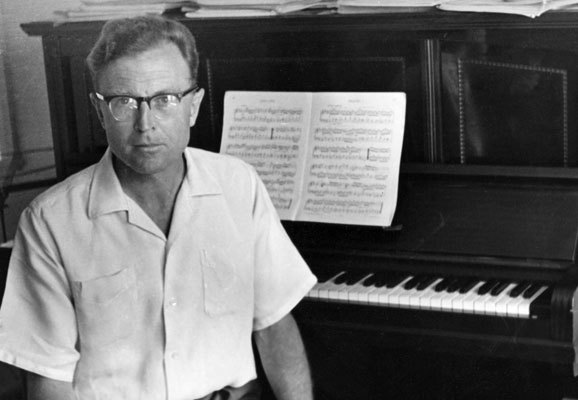 Douglas Lilburn at his piano (195-?) © Alexander Turnbull Library. Reference: PAColl-7737-3-04 All rights reserved.
Douglas Lilburn was born in Wanganui in 1915. He moved to Christchurch to study at Canterbury University College, and went on to the Royal College of Music, London. He was tutored in composition by Ralph Vaughan Williams and remained at the College until 1939.
He returned to New Zealand the following year, and worked in Christchurch as a freelance composer and teacher.
In 1947 Douglas Lilburn shifted to Wellington to take up a position at Victoria University, and moved up the ranks to a Professor. In 1966 Lilburn founded the Electronic Music Studio at the University and was its Director until 1979, a year before his retirement.
He was presented with the Composers' Association of New Zealand (CANZ) Citation for Services to New Zealand Music in 1978. In 1988 he was awarded the Order of New Zealand. Douglas Lilburn, described as "the elder statesman of New Zealand music" and the "grandfather of New Zealand music," died peacefully at his home in Wellington on 6 June 2001.
Performances of Douglas Lilburn compositions:
Video:
Douglas Lilburn giving a demonstration of a work composed in the Electronic Music Studio at Victoria University, Wellington, New Zealand, in 1970. Lilburn is demonstrating the sounds produced for a modern dance performance that include the electronic reconstitution of the sounds of the extinct huia bird.
Interviews with Douglas Lilburn:
A transcript of a Jack Body interview done for the 1980 Festschrift, as Lilburn retired from Victoria University
A transcript of a Chris Bourke interview done in 1985 for The Listener
Interviews related to Douglas Lilburn and his work:
Named after the New Zealand composer who instigated the Archive of New Zealand Music within the Turnbull Library and established the Lilburn Trust, the lecture is held annually on Douglas Lilburn's birthday, 2nd November. Speakers are invited to talk on a subject of their choosing about music and New Zealand. The Lilburn Lecture is jointly organised by the Lilburn Trust and the Alexander Turnbull Library, and recorded by RNZ. Listen to past Lilburn Lectures here.