New Zealand and the Vietnam War
Listen to interviews with some of the 3,500 New Zealanders who served in Vietnam between 1963 and 1975.
Writer and historian Clair Hall drew on over 150 interviews with Vietnam veterans to write No Front Line: Inside Stories of New Zealand's Vietnam War. She also managed the Vietnam War oral history and digital archiving project for the Ministry for Culture and Heritage, and authored the book
She talks to Kim Hill about New Zealand's longest and most unpopular military engagement.
The book New Zealand's Vietnam War by Ian McGibbon, published in 2010, completed the project of official war histories begun in 1945 and focuses on what New Zealand did in south Vietnam.
It includes controversies such as incidents of "friendly fire", allegations of atrocities, grievances over Agent Orange, and Maori participation in V Force.
Ian McGibbon talks to Chris Laidlaw about New Zealand's involvement in the war.
New Zealand's Vietnam War, by Ian McGibbon is published by Exisle.
Sister Sheila O'Toole went to Saigon during the Vietnam War, was held hostage in a POW camp, and was one of the last people to depart from the US Embassy in 1975.
She returned to Vietnam in 1992 and spent another 12 years there, and is the most decorated New Zealander in relation to Vietnam.
She talks to Kim Hill about her life and experiences.
Sister Sheila is the author of the 2007 book Behind the Visor: My Life in Wartorn Vietnam (ISBN: 978-0-473-12516-5), and has contributed her recollections to a large new history, New Zealand's Vietnam War by Ian McGibbon (Exisle, ISBN: 978-0-908988-96-9).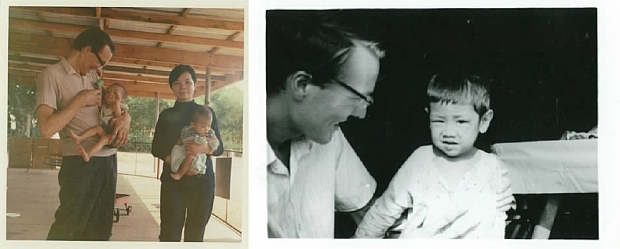 Peter Watson, who volunteered for two years during the Vietnam war in orphanages in Saigon, talks with Bryan Crump.
Noel Bell was a New Zealand Army photographer in Vietnam during the war, 1968-1969. Audio
Graham Reid takes us on a musical journey during war time in Vietnam. We also hear why he jumped on a plane and went to Saigon in 1969 in his civvies. Audio
Chris Turver was the first New Zealand war correspondent to be dispatched to Vietnam.
New Zealand and the Vietnam War images from Alexander Turnbull Library
Tribute08
Tribute08 was held in Wellington at Queen's Birthday Weekend 2008. It paid tribute to New Zealand's Vietnam War veterans and their families.
The Prime Minister Helen Clark acknowledged that it had fallen to her government 'to deal with the longer term consequences of New Zealand's involvement in the Vietnam War in the 1960s and 1970s'. The government agreed to deal with a number of outstanding issues for veterans and their families, including formal recognition of their service. Source: Vietnam War Tribute 08 social studies activities, (Ministry for Culture and Heritage), updated 17-Apr-2013
Vietnam veteran Chris Mullane talks to Chris Laidlaw about the focus for the 2008 ANZAC day and the Queens Birthday 'Tribute 08' commemoration to remember New Zealanders who fought in Vietnam.
Some 3500 Vietnam vets came home in the late 1960s and early 70s to another conflict – that of the hostile attitude of a populace that opposed New Zealand's involvement and a government seemingly embarrassed by their participation.
The apology attempts to address the veteran's exposure to toxic environments during the war and the way they were treated when they got back. It was part of a memorandum of understanding between the government and the Returned Services Association.
Kathryn Ryan talks to Chris Mullane, Vietnam veteran and chairman of the group that organised the Tribute 08 event; Bruce Weir, spokesman for Vietnam Veterans Action Group; and Ken McKee Wright, one of the first soldiers to come home.
Jim Delahunty was a member of the anti-war coalition, Committee on Vietnam.
War historian Ian Mcgibbon comments on the apology. Audio
Emotional scenes filled Parliament's public gallery as Vietnam War veterans heard the Crown's long-awaited apology.
The Prime Minister speaks about the apology and what it means to the country, to the men and women involved and to her.
Vietnam War protestors call on government to apologise to the Vietnamese people.
*Source: Vietnam War Tribute 08 social studies activities, (Ministry for Culture and Heritage), updated 17-Apr-2013