Sir Edmund Hillary Obituary
Sir Edmund Hillary died at 9am on Friday 11 January after a heart attack in Auckland City Hospital, aged 88.
Sir Edmund scaled the world's highest mountain in 1953, telling his companions after the climb: "We knocked the bastard off."
His death was announced by the Prime Minister, Helen Clark's office and his family accepted the offer of a state funeral. Flags flew at half mast across the country. 
Edmund Hillary was born 20 July 1919 in the township of Tuakau, just south of Auckland. He was educated in Auckland, and served in World War II as a navigator on Catalina flying boats in the Pacific theatre.
He climbed twice in the Himalayas before being invited to join Colonel John Hunt's expedition to Everest in 1953. On 29 May that year, Sir Edmund Hillary and Sherpa Tenzing Norgay reached the highest point on Earth, 8,850 metres, an achievement that made him an international celebrity.
"I think my first sensation on the summit was undoubtedly one of relief, but I do remember having a very strong feeling that surely this can't be Ed Hillary standing on top of Everest," he said of that moment.
His knighthood was bestowed while they were still trekking back to Kathmandu. Initially thinking the news was a joke, he was also a bit unsure of the consequences:
"I wasn't very happy about it at all," he said."I just didn't really particularly see myself as a titled person.
"Normally I used to wander round Papakura with a pretty grubby old pair of overalls on and I thought, my goodness, 'I'll have to buy myself a new pair of overalls'."
The ascent of Everest was just the beginning of a life of adventure and service for Sir Edmund: searching for the Yeti in the Himalayas, riding jet boats in an expedition to find the source of the Ganges River, and making the first overland trip to the South Pole on modified tractors.
Triumph and tragedy
In 2005, he opened a field centre named after him at New Zealand's Scott Base in Antarctica.
If the Himalayas were the scene of his greatest triumph, they were also the site of tragedy. Sir Edmund married Louise Rose in 1953 and the couple had three children. But in 1975, Lady Hillary and their youngest child Belinda were killed in a plane crash in Nepal.
Sir Edmund was devastated and it was several years before he recovered. Ten years afterwards, he married June Mulgrew, widow of his friend Peter Mulgrew who had died in the 1979 Erebus plane crash in the Antarctic.
Sir Edmund's greatest project was his Himalayan Trust, set up in the 1960s. He felt a deep sense of obligation to the Sherpa people of Nepal and from 1966 he made numerous visits to the Himalayas to build and advise on schools, hospitals, air strips and bridges.
"It was impossible not to see that they lacked all the things that we regard as essential in life," he said. "They didn't have schools and they didn't have any medical care or anything of this nature. And I suddenly decided that instead of just talking about it - why didn't I try and do something about it."
Sir Edmund became a member of the Order of New Zealand in 1987, but his greatest formal honour came from Queen Elizabeth, who made him a Knight of the Garter in 1995.
Three years later, the Smithsonian Institute in Washington awarded him its James Smithson Bicentennial Medal for extraordinary achievements as an explorer and humanitarian.
Sir Edmund's work goes on, through organisations such as the the Hillary Institute and the Himalayan Trust.
In the 1980s, the Lange Labour government appointed him High Commissioner to India.
Final visit
In 2006, aged 86, he made his last visit to Nepal to make his final farewell to the Khumbu region where his Himalayan Trust worked to improve the health and education of the Sherpas.
The following year, he returned to Antarctica to mark the 50th anniversary of Scott Base which he had helped to build. During this visit, the formation of the Hillary Institute was announced, along with the establishment of an international prize for outstanding leadership to be known as the Hillary Step, after his famous route to the summit of Everest.
An enduring legacy 
Prime Minister Helen Clark says Sir Edmund Hillary's death is a profound loss for New Zealand.
In a written statement issued on Friday 18 January 2007, Miss Clark said her thoughts were with Lady Hillary, Sir Edmund's children, wider family and close friends.
She called him a colossus, an heroic figure, who, as she put it, "not only 'knocked off' Everest, but lived a life of determination, humility and generosity."
"The legacy of Sir Edmund Hillary will live on," said Miss Clark. "His exploits continue to inspire new generations of New Zealanders, as they have for more than half a century already."
 "[He] is the best-known New Zealander ever to have lived," she said. "Most of all, he was a quintessential Kiwi ... All New Zealanders will deeply mourn his passing."
"His enduring commitment to and respect for the Sherpa people reflects the best of what we as New Zealanders can contribute, from our small developed nation helping another less priviledged one."
International tributes
The death of Sir Edmund has made headlines across the world.
Coverage of the United States presidential race was knocked off the front page of the New York Times website by the news of his passing, while tribute pages were set up on other news sites including the Sydney Morning Herald, Times of London and the Times of India.
Sherpa friends of Sir Edmund Hillary lit butter lamps and offered special Buddhist prayers in monasteries in Nepal.
In 2003, their government conferred honorary Nepali citizenship on Sir Edmund in recognition of his services to the people and the region. His projects built 26 schools, two hospitals and an airport and provided scholarships for Sherpa children.
Norbu Tenzing, the son of Tenzing Norgay who was with Sir Edmund on the famous climb, described the day as one of great sadness. Vice-president of the American Himalayan Foundation, he says Sir Edmund was a father for Sherpas around the world and the partnership between the climber and Sherpa was something special.
The British flag at the British High Commission flew at half mast out of respect for Sir Edmund. The British High Commissioner, George Fergusson, said he was the quintessential hero to people in Britain, as well as New Zealand.
He said the moment Sir Edmund conquered Everest was dramatic for the British Commonwealth, as the news came out the same day as the Coronation of the Queen.
Other tributes
Sir Edmund was a wonderful person who was a natural leader... a practical and humble man who related to everyone.
Governor-General Anand Satanyand
Sir Edmund's legacy will not be forgotten and he will continue to be a role model for all New Zealanders for generations.
The Leader of the National Party, John Key
Sir Edmund was very modest about his achievements, including the ascent of Mt Everest... an incredibly generous and courageous man ... "the greatest New Zealander of our time".
Deputy Prime Minister Michael Cullen 
...the special character of Sir Edmund Hillary was demonstrated by the fact that he was the only living New Zealander to have been chosen to feature on a New Zealand banknote...We will all feel the loss of a truly remarkable man whose achievements and humility have inspired New Zealanders for so long.
Reserve Bank Governor Allan Bollard
... his life was nothing short of a triumph.
Alexa Johnson (The author responsible for chronicling Sir Edmund's life.)
A lifetime of achievement
The legendary mountaineer and adventurer Sir Edmund Hillary wanted to be remembered mostly for his humanitarian work.
Following is a chronology of Sir Edmund's life:
20 July 1919: Born in Auckland.
1939: Beekeeper Edmund Hillary climbs his first major mountain, Mount Oliver in the South Island's Southern Alps, aged 20. His climbing career goes on to span the next three decades and takes him to the Himalayas and European Alps.
1943-1945: Serves as a Catalina flying boats navigator during World War II.
29 May 1953: With Sherpa Tensing Norgay, becomes the first to scale 8,848 metre Mount Everest
1953: Knighted by Britains newly crowned Queen, Elizabeth II.
1955: Publishes mountaineering book, High Adventure, about the summit ascent.
1957: Helps establish Scott Base in Antarctica. 
4 January 1958: Leads the first motorised team to reach the South Pole, driving a modified Massey Ferguson tractor.
1960's: Returns to Himalayas in search for the Yeti and sets up Himalayan Trust for charitable work in Nepal. The trust builds schools, hospitals and air fields.
1975: Wife Louise and youngest daughter Belinda die in plane crash in Nepal.
1977: Jet boats to the source of the Ganges in the Himalayas, with his son Peter, on the "Ocean to Sky" expedition.
1985: Becomes New Zealand's High Commissioner to India.
1989: Marries long-time companion June Mulgrew, widow of Peter Mulgrew.
1990: Son Peter climbs Everest, while his father becomes the first living New Zealander to feature on a banknote. 
1997: Hillary: a view from the top made by Tom Scott and screened by TVNZ.
2003: 50th anniversary of ascent of Everest. Sir Ed and Lady Hillary at head of procession in Kathmandu of more than 200 mountaineers who had climbed Everest in the 50 years since he and Tenzing Norgay.
2006: Returned to Nepal, aged 86, to farewell the Khumbu region. Movie about him, "in development", scripted by Tom Scott with working title of Higher Ground.
2007: Visits Antarctica to celebrate the 50th anniversary of New Zealand's Scott Base scientific station.
11 January 2008: Dies, aged 88, of a heart attack in Auckland City Hospital.
Sir Edmund wrote several books, including his autobiography Nothing Venture, Nothing Win. Among the honours he received were:
KG 1995
ONZ 1987
KBE 1953
Polar Medal 1958
Queen's Coronation Medal 1953
NZ 1990 Medal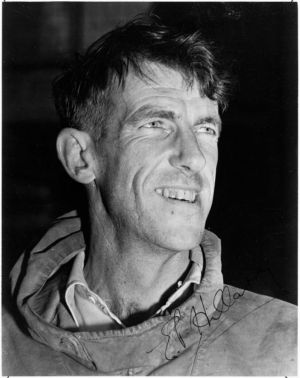 Edmund Percival Hillary [ca 1953]. Pascoe, John Dobree, 1908-1972. Edmund Percival Hillary. Ref: 1/2-020196-F. Alexander Turnbull Library, Wellington, New Zealand. http://natlib.govt.nz/records/22676310
Links