Audio from the State Funeral
The complete funeral service broadcast from St Mary's in Auckland. Audio

The complete funeral service broadcast from St Mary's in Auckland. Audio
General Order of Service for the State Funeral
Prior to the Service, a medley of Sir Edmund Hillary's favourite music was played.
The State Funeral Service was officiated by the Right Reverend John Paterson, Bishop of Auckland; the Very Reverend Ross Bay, Dean of Auckland and the Very Reverend Peter Beck; Dean of Christchurch.
There were readings by the Governor-General and a Hillary family member, and tributes by Prime Minister Helen Clark, members of Sir Edmund's family, Norbu Tenzing Norgay, Jim Wilson, and Rev Peter Beck.
The final Blessing was conducted by the Bishop of Auckland, the Rt Rev John Paterson.
The Recessional: The Bishop of Auckland, the Dean of Auckland and the Dean of Christchurch led the casket procession from the Church to the Cathedral forecourt.
Those taking part in the Service also included:
The Choir of the Auckland Cathedral of the Holy Trinity, and Director of Music Canon Peter de Bloise
Paul Tarling, Belinda Godfrey Memorial Organ Scholar
Dame Malvina Major
Ben Makisi
Gillian Ansell, violinist, NZ String Quartet.
Audio Terms of Use
Pre-recorded material:
In the interests of allowing full coverage of Sir Edmund's life and work, Radio New Zealand grants radio broadcasters a non-commercial non-exclusive license to use audio from this page and packaged material on the internet (including podcasts) provided that:

1. The audio is not longer than sixty seconds in duration, and is part of general news coverage of Sir Edmund's life. You cannot use the audio in your own documentaries. Please contact John Barr for any other broadcast rights.

2. Archival audio is credited to Radio New Zealand Sound Archives.

3. Contemporary material is credited to Radio New Zealand.

4. If you use any material from the documentaries, please refer your listeners to the whole documentary being available on radionz.co.nz/hillary
Also note that you may not sell the audio in any form whatsoever.
There can be no commercial associations with the material.
Other publishers of web content should contact John Barr.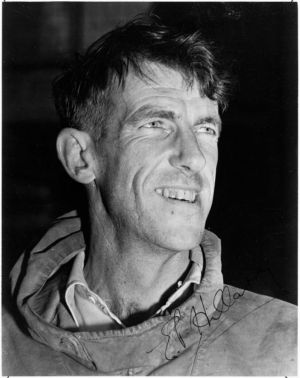 Edmund Percival Hillary [ca 1953]. Pascoe, John Dobree, 1908-1972. Edmund Percival Hillary. Ref: 1/2-020196-F. Alexander Turnbull Library, Wellington, New Zealand. http://natlib.govt.nz/records/22676310
Links