It's One Thing To Climb A Mountain
Award-winning Documentary
Radio New Zealand received a Gold Medal from the prestigious New York Festival Radio Awards for this documentary by veteran producer, Jack Perkins, on the life of Sir Edmund Hillary.
Everest to Antarctica Audio

We came for the mountains and stayed for the people. Audio

White Water and Diplomacy. Audio
Acknowledgments

Excerpts of audio used in the tribute documentary 'Everest And Beyond' are sourced from the following DVDs:
Beyond Everest, DVD which contains two 50 minute films, one made in 1980, one in 1999, both about Hillary's work with the Sherpa people.
From the Ocean to the Sky, DVD about Hillary's 1977 Ganges jetboat expedition.
DVDs of Sir Edmund's journey through India in 1985 India - a Personal Encounter, and his 1983 Fijian adventure A Journey to the Dawning of the Day.
Used by permssion. Enquiries to mcdillon@ozemail.com.au
Archive material has also been sourced from Radio New Zealand Sound Archives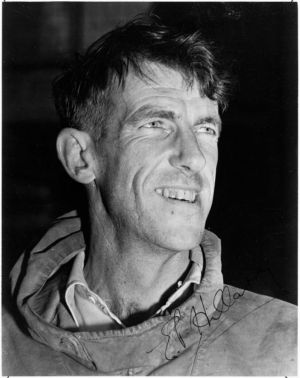 Edmund Percival Hillary [ca 1953]. Pascoe, John Dobree, 1908-1972. Edmund Percival Hillary. Ref: 1/2-020196-F. Alexander Turnbull Library, Wellington, New Zealand. http://natlib.govt.nz/records/22676310
Links