Edmund Hillary's diary
Ed Hillary's expedition diary entries for the ascent of Mt Everest in 1953
In association with the Auckland Museum, and with the kind permission of the Hillary family, Radio New Zealand is marking the 60th anniversary of the ascent of Mt Everest. The following diary entries written by Hillary in a small notebook charted the final days of his climb in the company of the Sherpa Tenzing Norgay. Working with other members of the expedition, they climb from camp two to camp nine, from where they make the final ascent on 29 May.
From the Summit is an Auckland Museum exhibition commemorating the historic event.
The expedition diary entries are read by Mick Rose, produced by Radio New Zealand Drama.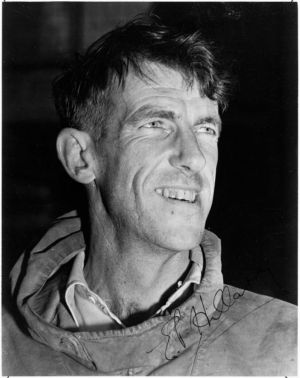 Edmund Percival Hillary [ca 1953]. Pascoe, John Dobree, 1908-1972. Edmund Percival Hillary. Ref: 1/2-020196-F. Alexander Turnbull Library, Wellington, New Zealand. http://natlib.govt.nz/records/22676310
Links