White Chocolate Panna Cotta with Strawberries and Almond Praline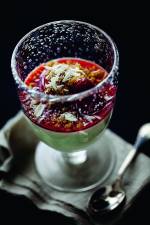 The Molten Cookbook by Michael Van de Elzen,
Published by Random House NZ
(Serves 6)
Ingredients
White Chocolate Panna Cotta
1½ tsp powdered gelatine
1 Tbsp water
150 ml milk
300 ml cream
20g sugar
200g white chocolate, chopped
Poached strawberries 
1 cup water
1 cup cranberry juice
½ cup red wine
½ cup caster sugar
1 cinnamon stick
12 large strawberries
Almond Praline
6 Tbsp roasted almonds, skin on
salt
2 cups water
1 cup sugar
Method
White Chocolate Panna Cotta
Sprinkle gelatine over water and leave to swell.
Place milk, cream and sugar in a saucepan and bring to a simmer.
Mix to dissolve sugar.
Let stand for 2 minutes, and then add chocolate and gelatine. Mix until dissolved.
Pour into six serving glasses to set overnight in refrigerator.
Poached strawberries
Bring water, cranberry juice, red wine, sugar and cinnamon stick to the boil.
Reduce heat, add strawberries and simmer for about 3 minutes.
Remove from heat and cool.
Remove strawberries from liquid. Retain liquid.
Slice strawberries in half.
Almond Praline
Place almonds in baking dish and sprinkle with salt.
Bring water to boil, add sugar and stir to dissolve.
Simmer until golden brown.
Remove from heat and pour over almonds. Allow to cool.
When cold break into small chunks using a mortar and pestle.
Alternatively, place in a clean tea towel and break with a rolling pin.
To assemble
20g white chocolate, grated
Place panna cotta on plate.
Place two strawberries on top and sprinkle with praline and chocolate.
John Hawkesby's wine recommendation
Rose
Waimea Pinot 2011