Vodka Honey White Chocolate Mousse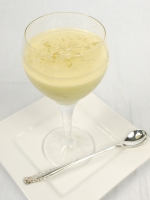 There is a real wow factor to this dessert when it is brought to the table. The rich honey chocolate creaminess is cut back by the vodka syrup, and the gold leaf adds a final luxurious touch. It is very simple to make but measurements must be accurate. I have included a Raspberry Coulis that can be used with the mousse and vodka syrup, or if you have diners that want to avoid alcohol, the coulis can be served on its own.
(Makes 6–8 servings)
Ingredients
200 g white chocolate calletts
70 g unsalted butter, chopped
2 x size 7 eggs
2 tablespoons plain honey
300 ml cream, whipped
220 g caster sugar
250 ml water
80 ml vodka
Method
Melt the chocolate and butter in a microwave (on medium) or over a double boiler (don't let the bowl touch the simmering water). Stir to mix, then set aside to cool.
Beat the eggs and honey until light and creamy. Fold the cooled chocolate mixture into the egg mixture, then fold in the cream gently. Place mixture into 6–8 serving glasses, cover and chill for at least 4 hours.
To make the sugar syrup, boil the caster sugar with the water. Stir over a low heat until sugar dissolves. Simmer for 10 minutes then remove from the heat and cool completely. Add the vodka to the syrup. Top each dessert with some of the vodka syrup and a sprinkle of gold leaf.
If you are using the Raspberry Coulis, either serve in a small dish on the side or drizzle on top of the dessert, adding the vodka syrup and gold leaf on top.
Wines to complement this recipe
Dessert Wine
Brown Bros. Cienna 2010
Bubbles
Palliser Estate Methode Traditionelle 2006