Quinoa Salad with Spinach, Olives and Roasted Peanuts
(The Sweet and Sour Ginger Miso Dressing also be used over steamed vegetables)
Ingredients
Quinoa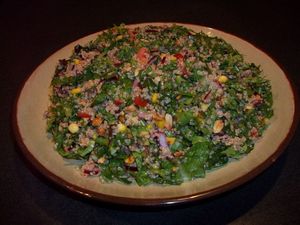 1 cup uncooked quinoa, rinsed in a fine meshed sieve
2 cups water
2 tbsp lime juice
2 tbsp olive oil
1 tbsp. red wine vinegar
1/2 tsp dried oregano
3/4 tsp salt, or to taste
1 red onion, finely chopped
5 to 6 cups spinach or other salad greens, sliced into thin ribbons
1 cup corn kernels
1 tomato, diced
1/3 cup kalamata olives, pitted and chopped (olive lovers could add another 1/3 cup)
2/3 cup roasted unsalted peanuts
Sweet and Sour Ginger Miso Dressing
2 tbsp miso (preferably blonde)
1/4 cup of olive oil (preferably extra virgin)
1/4 cup  apple cider vinegar
2 tbsp. maple syrup
1/4 cup water (optional)
 2 tsp freshly grated ginger (or more to taste)
Method
In a medium-sized pan, over medium heat, warm the rinsed quinoa until dry. Lightly toast, stirring constantly until fragrant, (about 3 - 4 minutes).
Add the water, bring to the boil and lower the heat to a simmer. Cover and cook until all the water is absorbed and the grains tender and plump, about 15 minutes.
Remove from the heat, fluff with a fork and let cool.
While the quinoa is cooking and cooling marinate the onion in the lime juice, olive oil, wine vinegar, oregano and salt.
To make the dressing, blend all the ingredients together.  Add the water only if you prefer a thinner dressing.
When the quinoa has cooled add the salad greens, corn, tomato, olives, peanuts and dressing.