Maria Cowan-York's Raw Tuna Salad with Pawpaw Seeds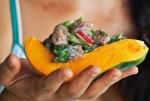 From Me'a Kai: The Food and Flavours of the South Pacific by Robert Oliver with Tracy Berno and Shiri Ram.
Publishsed by Random House.
Maria Cowan-York made this delectable raw tuna salad at her home in Rarotonga. It's a terrific example of bright local ingredients being given epicurean treatment: beautiful Pacific tuna, a dressing made with ever available pawpaw seeds, and radishes and green capsicums from Maria's father's farm. Pawpaw seeds give the dressing a pleasant zing and are reputedly loaded with carpaine, a powerful antioxidant. Pacific capsicums don't seem to have the same sharpness as those from colder climes; they are almost appley.
Taste your capsicum before adding to this recipe — you may be better off with yellow capsicum, or a blend of green capsicum and diced apple. Maria advises against substituting lemon or lime juice for the vinegar in the dressing, as citrus tends to turn the tuna opaque.
(Serves 6 as an appetizer)
Ingredients
1 tablespoon minced ginger
2 tablespoons pawpaw seeds
2 tablespoons malt vinegar
2 tablespoons olive oil
1 tablespoon grainy mustard
1 tablespoon brown sugar
500 g sushi-quality tuna, cut into 1 cm dice
6 radishes, trimmed and sliced thinly
1 green capsicum, cut into 5 cm sticks
¼ cup roughly chopped coriander
salt and pepper
pawpaw quarters to serve
Method
Chill a mixing bowl. Place the ginger, pawpaw seeds, vinegar, olive oil, mustard and sugar in a blender and blend to combine.
In the chilled mixing bowl, place the tuna, radishes, capsicum, coriander and salt and pepper. Combine, dress with the pawpaw seed dressing and serve on pawpaw quarters.
John Hawkesby's wine recommendation
Riesling
Misha's Vineyard Limelight 2010