Little Bird Coco Bacon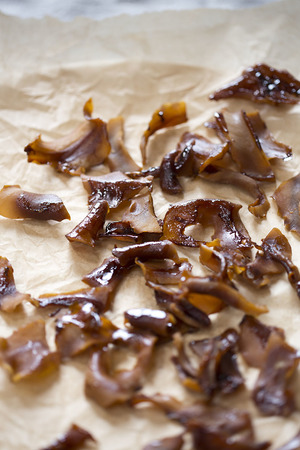 You think you've heard it all, but then along comes a dish like coconut bacon. This sounds a bit ridiculous but it really is a fantastic thing to have on hand. It's very delicious as a snack and adds a lovely savoury element to many of our dishes.
I've never been a fan of fake meats. They are so often laden with chemicals and preservatives that defeat the purpose of what eating a plant-based diet should be, which is to eat a clean, healthy, natural (no chemicals, additives or stabilisers) diet that makes your body feel amazing.
This is the perfect antidote to those fake meats. Using just a few simple ingredients and dehydrating them you are left with a delicious savoury element to use in many dishes.
Preparation time: 15 minutes
(Makes 1 cup of coconut bacon)
Ingredients
2 cups young coconut meat (approximately 2 coconuts)
2/5 cup tamari
2 T organic maple syrup or coconut sugar
2 drops of liquid smoke (make sure they are only drops - this stuff is strong)
pinch of sea salt
Method
You will need approximately 2 coconuts for this. Ideally the flesh will be soft but still have some firmness to it. If it's too thick you can still use it, you will just need to slice it thinly. Do this horizontally to get the thinner pieces around 3mm thick - it will taste more coconutty if the meat is thick.
If it's too thin (has some translucency to it) you might just need to eat it or find another use for it.
Once you have scooped the flesh out of the coconut, you need to clean any of the husk of it with a sharp knife and give it a quick rinse before using.
Slice the coconut meat into 2cm by 5-6 cm strips as best you can and then place in a bowl with all the other ingredients and leave to marinate for 20 minutes.
Place the coconut on some baking paper or a ParaFlexx dehydrator sheet.
Pour over the rest of the marinade and place in a dehydrator overnight for approximately 12 hours.
You can store the coconut bacon in the fridge for up to three weeks.