Hotplate Pizza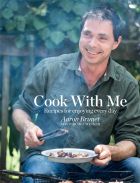 I wasn't going to put a pizza in my cookbook even though it is possibly my favourite food. My belief is that pizza needs to be cooked in a very hot oven at around 350–400°C, hotter than a normal home oven can ever get. I built a wood-fired bread/pizza oven which is fantastic, but this is something most people don't have. What I do think is really fun, however, is to cook a pizza over an open fire on a hotplate, something everyone can do. We first did this in Slovenia at our family's mountain cabin, picking fresh greens from the meadow around the cabin to throw on top. I think what makes this really special is everyone working to bring it together quickly, and then the instant shared delight of grabbing hot melty pieces and wolfing them down around the fire.
Reproduced with permission from Cook With Me by Aaron Brunet. Published by Random House. Photography by Kieran Scott.
Ingredients
Dough:
2 teaspoons dried yeast
1¼ cups warm water (no warmer than body temperature)
3 cups high grade flour
2 teaspoons salt
Sauce:
4 tablespoons olive oil
10 cloves garlic, finely chopped
2 teaspoons cracked black pepper
2 × 400g can chopped tomatoes
salt and black pepper to season
handful of fresh herbs, finely chopped (e.g. oregano, thyme, marjoram, basil)
Base:
2 × 300g balls of dough
flour for dusting
Toppings:
2 cups grated mozzarella cheese
½ cup grated Parmesan cheese
200g dried meat – either spicy salami or prosciutto
handful of fresh aromatic salad leaves (radicchio, rocket, dandelion)
Method
To make the dough, place the yeast and warm water in a big plastic bowl and stir to dissolve. Add the flour and salt, and mix with a strong wooden spoon until well combined. Ideally, leave the dough for 15 minutes before doing anything else to it; this will let the flour absorb the water and start to form gluten, saving you work and achieving a better result.
If you have a mixer with a dough hook, you can use it to mix the rested dough for 5 minutes until it is soft and silky. Otherwise, tip the dough out onto a lightly floured bench and have fun stretching, rolling and folding it for 5 minutes to develop the gluten.
Place the dough back in a plastic bowl and allow it to rise. If you rest your bowl in a bigger bowl of warm water and cover it with a cloth, you can create a nice warm little microclimate that will be ideal for the yeast to do its magic. If you happen to walk past about 30 minutes after leaving it to rise, you might like to give the dough a 'stretch and fold' to lengthen the gluten. To do this, grab the edge of the dough and stretch it up and away from the middle, folding it back onto itself. Turn the bowl a bit and repeat until you have gone all the way around. Give the dough about 2 hours rising time in total. It should be fine for about 6 hours after you make it.
About 45 minutes before you want to cook the first pizza, divide the dough in half and use your hands to stretch and fold it into 2 nice even rounds. I like to imagine tucking all the sides in underneath to make a nice tight surface on top. Place back into the warm bowl to rise until you are ready to go.
To prepare for cooking outside, heat a heavy hotplate over the coals of an outdoor fire, giving it a good scrape and clean as you go.
While it's getting hot you can make a batch of sauce for the pizza. Rest a heavy-bottomed pan over the coals and add the olive oil. Once it's hot, toss in the garlic and let it sizzle for about 30 seconds. Add the pepper and give it a stir, then tip in the tomatoes and give them a mash with the back of a fork. Cook for about 5–10 minutes until it thickens up a bit, then season to taste and add the fresh herbs. Keep nice and hot while you cook the pizza base.
Sprinkle a board or bit of table with flour and put your piece of dough on it. Use your hands to pull and stretch the dough out to make a wide rectangle. I like to flop it over one hand and use the other hand to tease and pull it gradually wider and wider. If it starts shrinking back too much, just give it a rest for 5 minutes to relax, then finish stretching it.
Check how hot the hotplate is by throwing a little flour on it and seeing how long it takes to brown. If it burns within seconds it's way too hot, and you can cool it down by splashing it with water. It needs to be reasonably hot but not scorching. Have all your ingredients ready to go on top, then sprinkle the hotplate with a dusting of flour and transfer the dough onto it. Keep a close eye on it, and once it starts puffing up the bottom will probably be done. Use a barbecue tool to flip it over, then immediately spread the boiling sauce on top. Sprinkle with the cheeses, then the dried meat and finally the fresh greens. Allow the bottom of the pizza to cook for about 5 minutes – check how it is going regularly so it doesn't burn. When it is done the toppings should be nicely melted together, and your pizza ready to slide off onto a breadboard – cut into slices and go for it!