Gluten-free* hazelnut centred duffins (doughnut-muffins)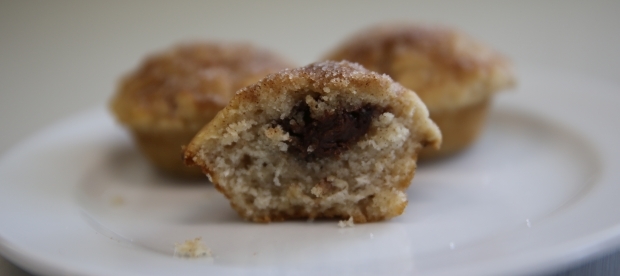 Modified from Damn Delicious
Makes: 12 mini-duffins
Ingredients
1 1/2C gluten-free plain flour (Zoë recommends Edmonds)
1/2C sugar
1/2t cinnamon
1/4t nutmeg
2t baking powder
1/4t salt
3/4C milk
1/4C vegetable oil
1 large egg
1t vanilla extract
12t Hazelnut spread (Zoë uses Nutella or Select Hazelnut spread)
For the cinnamon sugar topping
3T sugar
1t cinnamon
20g unsalted butter, melted
Method
Preheat oven to 200 degrees C. Spray a mini muffin tray with non-stick baking spray. 
In a large bowl, combine flour, sugar, cinnamon, nutmeg, baking powder and salt.
In a different bowl, whisk together milk, vegetable oil, egg and vanilla. Pour mixture over dry ingredients and stir using a rubber spatula or wooden spoon just until moist.
Scoop a table spoonful of batter evenly into the muffin tray. Dig a little well in the centre of the batter. Drop1 teaspoon of hazelnut spread into the center well. Top with remaining batter to completely cover the filling.
Place into oven and bake for 13-15 minutes, or until a tester inserted in the center comes out clean.
To make the cinnamon sugar, combine the cinnamon and sugar.
When the muffins are done, cool for 10 minutes and dip the muffin crown into the melted butter and drizzle over muffins, then sprinkle over cinnamon-sugar mixture.
Let cool on a wire rack (if you can resist not eating them!)
Added extras
You can put jam, chocolate pieces, lemon curd or custard in these duffins.
* Nutella states on its website that it doesn't contain any ingredients associated with gluten. However it does contain traces of soy.