Coconut & Berry Crumble with Rum Mascarpone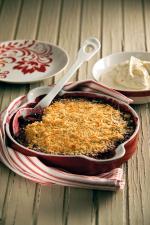 Although I love to cook lots of different things, the majority of my repertoire is quite savoury. When I am out for a meal, I would rather have a nice starter then a gooey dessert. So when I am at home and mucking about in the kitchen, the chances are I will make something with a bit of salt and spice in it. But my partner likes to bake, and loves desserts, custard, cream, rice puddings, peanut brittle, chocolate and tarts. When the weather starts to turn and the evenings draw in, puddings are what she is looking for, and this is her favourite. Not only does she love it for dessert, but reckons it is great for breakfast because it contains fruit, oats and coconut!
Preparation: 15 mins
Cook time: 30 mins
Serves: 6
Photograph © David Baird
Ingredients
500 g mixed berries
3 tbsp caster sugar
1 tsp ground cinnamon
2 tbsp berry jam
Crumble
1½ cups plain flour, sifted
60 g desiccated coconut
60 g rolled oats
80 g brown sugar
pinch salt
120 g butter, diced into even pieces
Cream
250 g mascarpone
½ cup cream
¼ cup rum
¼ cup caster sugar
1 tsp vanilla essence
Method
Preheat the oven to 180°C.
Put berries, caster sugar, cinnamon and jam in a saucepan and bring to a simmer for 2 minutes, allowing the flavours to combine and the jam to dissolve. Allow to cool slightly.
Place flour, coconut, oats, brown sugar, salt and butter in a food processor and pulse until you have a breadcrumb consistency, or you can do this by hand — mix the dry ingredients together then rub the butter into them.
Tip your fruit mixture into a large, ovenproof dish and top with your crumble, ensuring you get an even covering. Place in the oven for 25 minutes or until the top is golden and you can see the fruit bubbling at the edges. Allow to sit for 5 minutes.
Beat your mascarpone and cream together until light and fluffy then add rum to taste, caster sugar and vanilla essence.
To serve
Place a giant spoonful of crumble on your plates with a generous helping of cream on the side. Enjoy!
John Haweksby's wine recommendation
Dessert Wine
2011 Julicher