Chocolate Cake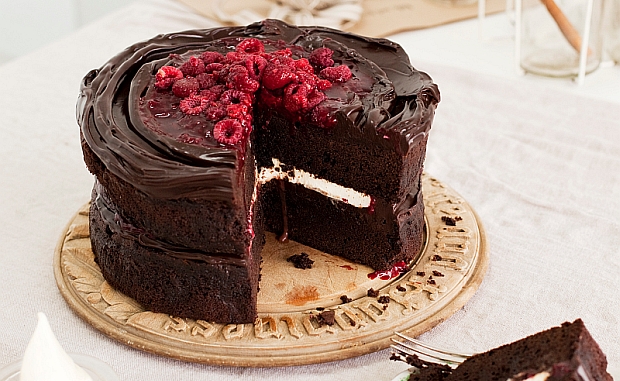 Reproduced with permission from Treats from Little and Friday by Kim Evans. Published by Penguin Group NZ. Copyright © Kim Evans, 2012. Photography © Rene Vaile.
This is a delicious, moist chocolate cake which is made with oil so it keeps for days. The key to the cake's decadence is using really good-quality dark Dutch cocoa and chocolate with a high cocoa content (at least 50 per cent cocoa), such as Callebaut or Valrhona.  
It's best to bake this cake a day in advance to allow it to cool completely before assembling.
Chocolate
For baking we use 50 per cent cocoa solids, nothing less, as it will definitely alter the cake's flavour. Chocolate should be stored at room temperature in a dry, airtight container. Be careful to keep it away from strong flavours such as onions or spices as it will absorb their flavour. To melt chocolate, place in a stainless-steel or glass bowl over a pot of simmering water. Do not allow the bottom of the bowl to touch the surface of the water as it will burn and seize.
(Makes one 23cm double-layer cake)
Ingredients
5 eggs
2½ cups caster sugar
300ml canola oil
¼ cup strong black coffee, preferably espresso
1 tsp vanilla essence or paste
250g good-quality chocolate, melted
2 cups flour
2 tsp baking powder
1 cup cocoa
2 tsp ground cinnamon
200ml milk
Sugar syrup
1 cup caster sugar
2 cups water
Chocolate Ganache
200g good-quality dark
chocolate (we use 50 per cent cocoa)
½ cup cream
To assemble
3½ cups Chocolate Ganache
1 cup Raspberry Coulis
250g mascarpone
½ cup fresh raspberries or edible flowers, to garnish
Method
To prepare the cake, preheat oven to 150ºC. Grease two 23cm round tins and line the bottom and sides with baking paper cut to fit exactly.
Using an electric mixer, beat eggs and sugar at a medium high speed until mixture becomes pale, voluminous and falls from the beater in a wide ribbon that holds its form before dissolving back into the mixture.
Keep beater on medium speed and slowly drizzle in oil, being careful not to pour too quickly or the mixture will lose volume.
Add coffee, vanilla and melted chocolate. Use a spatula to scrape the bottom of the bowl and make sure the chocolate is thoroughly mixed in.
Sift flour, baking powder, cocoa and cinnamon into a bowl.
Using a large metal spoon, fold a third of the dry ingredients into chocolate mixture. When almost combined, add a third of the milk. Continue in this way until all combined.
Pour batter into prepared tins and bake for 45 minutes, or until the tops spring back when touched lightly and a skewer comes out clean when inserted into the middle of the cakes.
Sugar syrup
To make the syrup, place ingredients in a saucepan on a low heat, stirring until sugar is dissolved. Increase heat and boil for 5 minutes or until syrupy.
Pour hot syrup over the cakes and cool completely in their tins on a wire rack. When cool, turn out by inverting the tins then turn cakes upright.
Chocolate Ganache
Gently melt chocolate and cream in a metal bowl over a saucepan of simmering water. Stir constantly to form a smooth sauce.
Allow to cool and thicken. Store in a cool place for up to 2 weeks.
Makes 1 cup. You can make as much Ganache as you need by using the same ratio of chocolate to cream.
To assemble
Spread ¾ cup chocolate ganache over one cake layer. Spread a thin layer of raspberry coulis then a thick layer of mascarpone over the Ganache.
Place the second cake on top. Spread with remaining ganache, drizzle with raspberry coulis and garnish with raspberries or flowers.
John Hawkesby's wine recommendation
Dessert Wine
NV Waipara Hills Equinox Late Harvest Riesling