Beef, Capsicum And Tomato Pasta Bake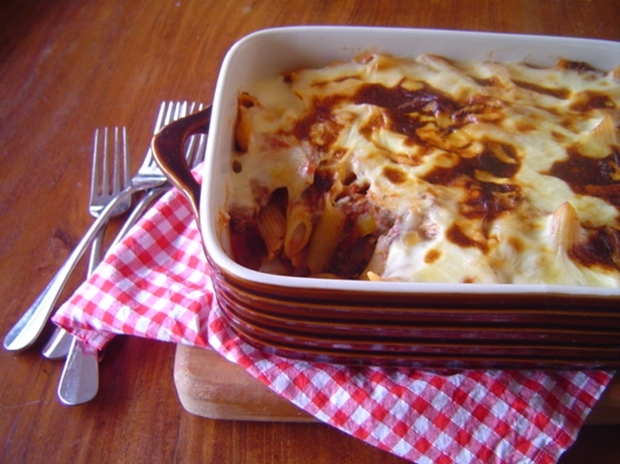 This pasta bake makes 300 g of beef mince into a hearty family meal. The robust Italian flavour appeals to a wide range of diners and the cheesy topping can be enriched with addition grated cheese or a handful of parmesan if you budget allows.
(Serves 4-6)
Ingredients
300 g lean beef mince
1 onion chopped
2 cloves garlic chopped
1 capsicum (bell pepper) de seeded and chopped
1 800g can chopped tomatoes
1 tsp mixed herbs
½ tsp oregano
1 tsp Worcestershire sauce
2 tbsp Tomato paste
1 tsp beef stock powder
1 tbsp brown sugar
1 tbsp corn flour
1 tbsp water
200 g (2 heaped cups) dried pasta - macaroni, penne, shells…
1 tbsp butter or oil
1 heaped tbsp pl flour
1 cup milk
¼ cup grated cheese
Method
Brown the mince in frying pan. Add the chopped onion, garlic and capsicum and continue cooking until the vegetables are soft. Pour in the tinned tomatoes, tomato paste, herbs, stock, sugar and Worcestershire sauce and simmer for 10-15 minutes. While the sauce is simmering cook the pasta in boiling salted water according to the packet directions and assemble the cheese sauce.
Melt the butter or oil is a small saucepan, turn the heat to low and stir in the flour. Mix well and then using a whisk gradually add the milk, a little at a time, stirring continuously to create a smooth lump free sauce. when all the milk is added swap the whisk for a wooden spoon and stir the sauce continuously until it begins to thicken. Do not allow it to boil. When the sauce will coat the back of a spoon, stir in the grated cheese, mix well and set aside.
Drain the pasta and stir into the meat sauce, place in a heat proof dish and smooth over the top. Spoon the sauce over the top and grill or bake (depending on how much time you have) until golden.
John Hawkesby's wine recommendation
Syrah
Mission Estate 2009
Pinot Noir
Wild South 2010