Avocado and Cashew Rice Paper Rolls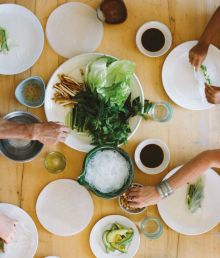 It seems that we Westerners get a few things wrong when it comes to making rice paper rolls. If I remember rightly, this was one of the first things my mother-in-law said when we met (right after: 'Wow, she's tall'). Most of us are led to believe (because it's even printed on the back of the pack) that rice paper wrappers have to be soaked in hot water for 1–2 minutes until super soft, then dried on a clean tea towel. Do this and the wrapper becomes one of the most fragile things around.
There is an easier way. You don't need to use boiling water. I pour boiling water into bowls and then add some cold water to cool it down. Now dip your wrapper into the water for a few seconds, just long enough to wet it, but not long enough to soften it just yet. Transfer to a large flat plate and fill with whatever fillings you like. By the time you have placed all your fillings, the rice paper will have softened perfectly and dried off naturally. Roll up and enjoy.
An even easier way (for the cook!) is to eat these in traditional Vietnamese style. Set the table with plates of fillings, small bowls of dipping sauce and a couple of water bowls for dipping the wrappers. Each person can then make their own rolls, instead of one of us being in the kitchen making the whole lot. If you want to make these in advance, roll them up, place on a large platter (or in a lidded container) and cover with a damp tea towel to prevent the papers from drying out. They will keep like this for 2–3 hours at room temperature (not the fridge, or they'll dry out).
Serves 4–6
Ingredients
2 x 50g packets vermicelli noodles
350g firm tofu
olive oil
2 teaspoons gluten-free soy sauce
½  teaspoon sesame oil
2 thinly-sliced ripe avocados, lettuce leaves, skinny lengths of cucumber, mung bean sprouts and mint leaves, to serve
1 ½ cups (185g) lightly-toasted cashews or peanuts, roughly chopped
1 packet large (21cm) round Vietnamese rice paper wrappers
Hot and sour sauce
½ cup (60ml) fresh lime or lemon juice
2–3 tablespoons finely-grated pure palm sugar or unrefined raw sugar
1 bird's eye chilli, finely chopped (deseeded, if you don't like things too hot)
Hoi sin dipping sauce
gluten-free hoi sin sauce
lime juice or hot water, to thin
finely-chopped bird's eye chilli, optional
Method
Put vermicelli in a bowl, cover with boiling water and leave to soften for 10 minutes. Drain well.
Rinse tofu, pat dry on paper towels and cut into 1cm slices. Heat a large frying pan over medium-high heat, add a touch of olive oil and shallow-fry tofu for 3–4 minutes on either side, or until golden and crisp. Drizzle with soy sauce and sesame oil and season with salt and  pepper. Mix well, then remove from the heat. Once cool enough to handle, slice each piece of tofu into little skinny lengths.
Arrange avocado, lettuce, cucumber, mung bean sprouts, mint leaves and tofu onto plates and place in the centre of the table, along with a bowl of cashews and the drained vermicelli.
To make the hot and sour sauce, combine all ingredients in a bowl, stirring to dissolve the sugar. To make the hoi sin sauce, place as much hoi sin as required into a small bowl and thin down with lime juice to reach a good dipping sauce consistency. Add the chilli. (This is how I make it for myself; for the children, I thin down with hot water and leave out the chilli.)