Siegfried
By Opera Australia at Arts Centre, Melbourne
Reviewed by Paul Bushnell for Upbeat, Friday 13 December 2013

Video extract from Opera Australia's production of Siegfried. Footage courtesy of Opera Australia.
Siegfried is a problem child.
He's not only the offspring of an incestuous union between brother and sister Siegmund and Sieglinde; but he acts as if he has an attention deficit disorder. It's hard not to think of the blunt assessment of Anna Russell that he's as thick as two short planks as you sit through the very long process of his growing to some semblance of maturity.
Starting out as an unruly and self-centred adolescent, he has to develop some sense of empathy to enable him to earn the affections of Brünnhilde by the opera's end.
The process is a bit of a slog not only for him, but the audience. Although the score for Siegfried has its luminous passages, it's got nothing like the grandeur of the other three operas in the Ring Cycle, or the deep emotion of Die Walküre.
Instead, there's lots of conniving from the dwarf Mime, the slaying of a dragon, and a fair amount of business to be got through before the release of the final scene which should act as a transcendent link into the world of Gōtterdämmerung.
Given how successful director Neil Armfield's vision of the cycle has been so far, it's unfortunate, to say the least, that the pleasures of this staging are so slight compared with what it offers musically. We're not in the territory of the European enfant terrible director – there aren't any outstandingly stupid directorial decisions (wait a moment – there is one – more about that later), just a sense of aimlessness and slight vacuity. Staging decisions are made which don't really make any coherent sense within the opera, nor within the Ring Cycle as a whole.
For some reason, every scene is framed by a proscenium arch. Sometimes it's close to the audience, like in the first act, when it provides an oddly formal setting for the metal workshop cum student flat which is Siegfried's home. Sometimes it's further away, when its upstage side represents the opening to the lair of the dragon Fafner. Most notably, it drops a gold metallic curtain to represent, with pulsing lights, the magic fire which surrounds the sleeping form of Brünnhilde. (And how feeble is that as an image, compared with the closing of the previous opera?)
I have no idea what this arch is doing wherever it appears. I can't think of any metaphor (concealment? deception? we're all players filling out our roles?) which makes any sense of its repeated use. How the directorial and design team could have made such a miscalculation is beyond me.
Fortunately, the singing and orchestral playing is on much firmer ground.
Pietari Inkinen draws some fine playing from the Ring Orchestra, delivering heft where it's needed, but also relishing the frequent passages of delicacy and transparency. Given Wagner's reputation as a bloated and bombastic composer, it's an absolute pleasure to hear the filigree with such clarity.
Terje Stensvold is once again the star as Wotan, now in the guise of the Wanderer. With a thrilling voice, tremendous projection, and magnetic stage presence (he's the one looking a bit like a beefy Iggy Pop with bare chest, sunnies and a fur coat) he dominates every scene he's in.
In the largest role of the night, Stefan Vinke makes an appealing Siegfried. Although his lighter voice lacks some of the heroic quality often associated with the part, he embodies its adolescent nature with ease.
Susan Bullock is reliably excellent as Brünnhilde, and grace notes are offered by Taryn Fiebig as the lovely Woodbird and Warwick Fyfe as Alberich, scheming and plotting for possession of the ring of power.
Although he's forced into some odd stage business involving putting on makeup at the start of his scene as the dragon Fafner, Jud Arthur is most impressive in his death throes – reappearing in human form, naked and covered in blood from the battle with Siegfried. This is a highly distinctive portrayal.
By contrast, Graeme Macfarlane is musically very solid as Mime, but just a little bit dull. Mind you, he has the benefit of not having a body double in a wheelchair in front of him miming his singing. That this indignity was forced on Deborah Humble for her final appearance as Erda is another baffling example of directorial miscalculation.
Ah well, things can't get any worse for Götterdämmerung.
At least I hope not.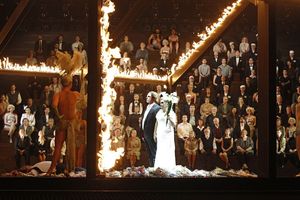 Siegfried and Brünnhilde in the Immolation scene. Photograph by Jeff Busby.
Opera Australia's Ring Cycle reviewed by Paul Bushnell for Upbeat.
Image Galleries