The Catalogue of the Universe by Margaret Mahy
About The Catalogue of the Universe
First published by JM Dent in 1983, Margaret Mahy once said The Catalogue of the Universe was perhaps her favourite young adult novel from her prolific output.
The Catalogue of the Universe won the 2005 Phoenix Award from the Children's Literature Association as the best English-language children's book that did not win a major award when it was originally published twenty years earlier. The award is named for the mythical bird phoenix, which is reborn from its ashes, to suggest the book's rise from obscurity.
The story
Beautiful Angela May lives in Christchurch with her mother Dido. She has never met her father. When she finally finds him, a local wealthy business man called Roland Chase, she doesn't get the reaction she expected. Angela finds that her friend - short, homely, brilliant Tycho Potter - has problems of his own and, to the surprise of both, they find consolation in a new relationship that emerges from their old friendship. Angela learns that common sense is a neat, symmetrical, misleading circle whereas truth is slightly elliptical and wobbly.
Told by Geraldine Brophy
Produced by Prue Langbein and engineered by Phil Benge
WARNING:       THIS IS A YOUNG ADULT NOVEL AND CONTAINS CHALLENGING THEMES AND REFERENCES
Discover more about Margaret Mahy in our collection
Geraldine Brophy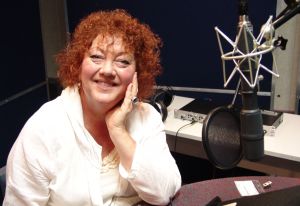 Geraldine Brophy was born in Birmingham, England and is one of New Zealand's best known actors and stage playwrights. Her award-winning career that spans Theatre, Film and Television. In 1997 the sometime stage director began a four year stint on Shortland Street, as receptionist Moira Crombie. Her other screen roles include In My Father's Den, Nothing Special, Seven Periods with Mr Gormsby, Second-Hand Wedding, King Kong, Home Movie and The Water Horse.
She's also been writing plays since 2003. Work here includes The Viagra Monologues, Leah, Confessions of a Chocoholic, Mary's Gospel, Real Estate, Mrs Merry's Christmas Concert and recently with her daughter Beatrice Ladies A Plate.