Three Houses Down
After winning the Best Song gong at the Pacific Music Awards 2010 this ten-piece reggae band from Otara went on to blow minds at the APRA Silver Scroll ceremony last year with their barnstorming performance of The Naked And Famous hit Young Blood. That led to a spot on Big Day Out 2011 line-up - just one of many shows the hard working band has performed this summer.
On a sweltering Tuesday in Auckland City Radio New Zealand managed to shoehorn this large group into the Roundhead Studio for an epic live session. Sandwiched into their tight touring schedule, Three Houses Down effortlessly ran through favourite tracks from their first two records.
As band leader Rob Pomeé likes to point out, the band's focus is to put on a show. Here we find an ensemble in complete command of their material, and singing like angels.
This exclusive live session is presented by Nick Atkinson and engineered by Andre Upston for Radio New Zealand National.
Otara ten-piece reggae band Three Houses Down play live at Roundhead Studio in Newton Auckland for Radio New Zealand. The songs are: Recession, Keep Your Culture, Trodden, Rastafari, Dandy Man… Audio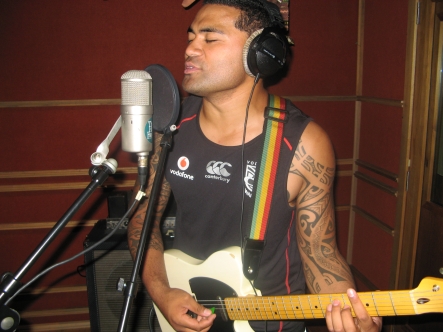 Lead singer Charlie Pomeé.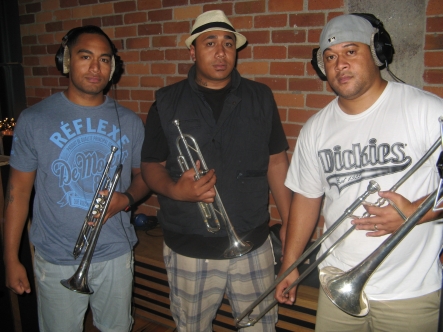 Three Houses Down brass section.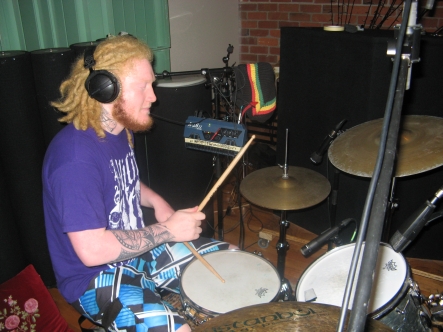 Drummer Albert Cook.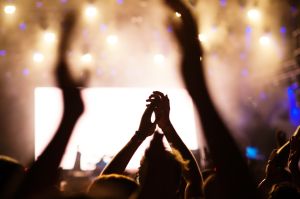 From intimate acoustic sessions in the Radio New Zealand studios to epic, sold-out shows at Aotearoa's best music venues, this is a collection of live contemporary music of all kinds.
Go to the National Music home page