The Adults
Live with Christchurch Symphony Orchestra
11:06pm Friday 28 November
A one-off collaboration between a local super group and the mainland's biggest band.
The Adults is the brainchild of Shihad's frontman Jon Toogood, joined by Shayne Carter (Dimmer and Straitjacket Fits) and Julia Deans (Fur Patrol) – and others from time to time.
In June 2012 The Adults collaborated with the Christchurch Symphony Orchestra, conducted by Hamish McKeich to present new arrangements by Steve Bremner (who also plays drums here), Stephen Small, Hamish Oliver, and Claire Cowan of songs from The Adults self-titled album, and some new pieces.
Produced by Andre Upston for Radio New Zealand and Warner Music NZ.
The Adults Live with the Christchurch Symphony Orchestra, performing Up & Gone; Nothing To Lose; Long Way Off; A New Beginning; Middle Of The Universe; Reunite. The final four songs are exclusive to… Audio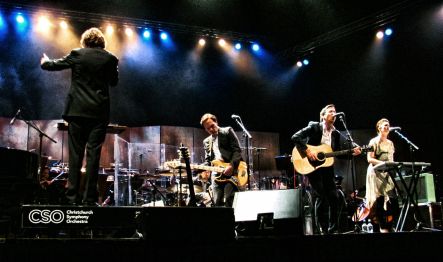 The Adults and the CSO, courtesy of Warner Music NZ.
Go to the National Music home page