Farewell Zealandia
A musical record of campaigns and battles, as well as life on the home front – hopes and fears, duty, loss and remembrance.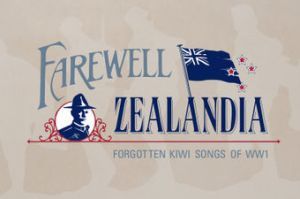 Farewell Zealandia is an exhibition of New Zealand music from the World War I period.
Produced in association with Te Manawa Museum of Art, Science and History, Musical Heritage New Zealand, and Radio New Zealand Concert.
These recordings were made in the auditorium of Michael Park School, Ellerslie, Auckland and in RNZ's Auckland studio in April 2015.
Images: CC BY-NC-ND 3.0 NZ

Lachlan Craig sings with the orchestra, conducted by Brett Lowe

David Dell of Musical Heritage New Zealand explains some background to the orchestra led by Jessica Hindin

Singer Mary Newman Pound