Wobblies Down Under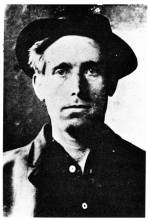 Swedish-American radical socialist Joe Hill (right) was framed for murder by the Utah police in 1915. He was so clearly innocent of the charge that even US President Woodrow Wilson appealed on his behalf but Joe was found guilty and executed by firing squad.
Songster, poet and member of the radical socialist Industrial Workers of the World, known as the Wobblies, Joe Hill became a martyr for the working classes world-wide. After a funeral in Chicago which attracted over 30,000 mourners, Joe's ashes were placed in 600 envelopes with the inscription 'Murdered by the Capitalist classes' and sent to Wobblies around the world including New Zealand. No trace of the ashes sent here has ever been found.
Researcher Jared Davidson tells Jack Perkins how he set out to track down Joe's ashes and in the process uncovered a story of the ruthless repression of Wobblies and other socialists in the early 1900s and World War I. To this end, New Zealand passed legislation more extreme than other comparable countries in the western world.
The Swedish-American radical socialist, songster and poet Joe Hill, became a martyr for the working classes world-wide when he was executed in 1915 for a murder he almost certainly did not commit. His… Read more Audio