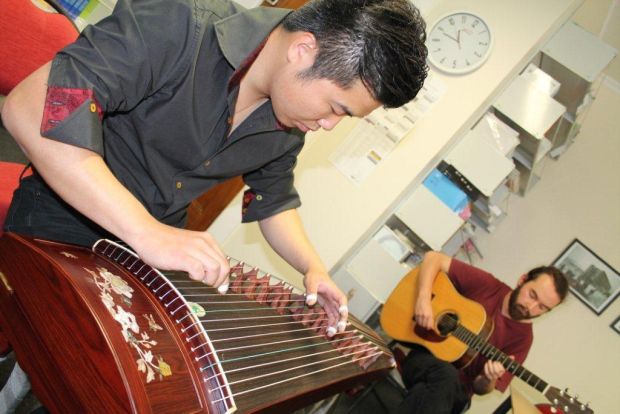 XiYao Chen and Jack Hooker on acoustic guitar
I was learning this instrument since I was 8 years old. It's a family tradition, I'm a fourth generation musician in my family. My grandfather is one of the founders of China's Central Conservatory of Music, my mother is a [music] professor. It's my fate, not just a dream come true. It's my responsibility to carry this on.
– XiYao Chen, Master Guzheng player from Beijing.
Surrounded by books in a small meeting room at the Confucius Institute at Victoria University, three musicians, all top in their field are meeting for the first time: XiYao Chen is a master of guzheng (the Chinese zither), Jonny Marks - an accomplished Mongolian Throat Singer and Jack Hooker - an acoustic guitarist.
They were introduced to each other through renowned composer Jack Body and under the umbrella of the Confucius Institute, the sponsors behind XiYao's week long performances in Wellington. In fact the three musicians have been brought together to create an improvisational concert, part of an interactive workshop with an audience, at the Adam Concert Room in Kelburn.
When all three start jamming together it makes for quite an inspirational aural experience. But first I wanted to know more about the guzheng and XiYao's own incredible personal story.
Thirty-year-old XiYao Chen comes from an auspicious family lineage of master guzheng players. His grandfather was one of the founders of the prestigious Central Conservatory of Music (CCOM) in Beijing, created in1950 and located at the former Prince Chun's Residence of the Qing Dynasty. XiYao's mother is a professor at the family's traditional School of Guzheng in Beijing. XiYao himself began learning piano at four and then the guzheng at the age of eight and is now a fourth generation musician in this family of guzheng masters. 
XiYao currently teaches at Hamilton's New Zealand School of Music. He visits his family in China about one a year. Tragically his grandfather was killed because of his talent with the guzheng, a victim of China's Cultural Revolution. Fortunately his mother (studying in the 1970's) escaped the worst of this time. XiYao's grandmother (now 101) is still going strong and one reason for Xiyao to keep going back.
XiYao tells me that "Gu" means "ancient" in Chinese. The ancient guzheng or Chinese zither is over 2000 years old, earliest forms dating back to 475 BCE. The guzheng is pentatonic and hails from northern China, traditionally played by the Han. The instrument used to be a lot shorter in length, with only 6 to 8 strings. Nowadays the guzheng its almost 2 meters long and has 21 strings. The instrument has always been played on it's back. The acoustic shell is made of glossy rosewood, elegantly decorated with mother of pearl.
XiYao tells me that the guzheng used to have either metal or silk strings. He says it was because metal strings could produce a strident sound used to describe battle scenes. Silk strings were used to accompany or describe romantic narratives, to evoke soft and gentle sounds. These days a guzheng will most often use modern nylon and steel strings but silk may still be used.
Traditionally very long fingernails were a prerequisite for guzheng players and the same for the pipa players. The pipa is the traditional Chinese lute, played upright. However the plucking movement is the opposite for each instrument. Pipa players pluck from the outside and then inwards, whereas guzheng players pluck from the inside towards the outer part of the instrument.
Instead of sporting the eerie long fingernails, XiYao straps either turtle shell or metal picks to the inside of his fingertips. He demonstrates the incredible versatility of his 21 stringed guzheng by plucking, strumming or drumming the strings in an enormous variety of ways.
XiYao begins plucking and extraordinarily it sounds like the poetic music of the classic harp, evoking romantic waterfalls and picturesque scenes. He breaks this up with hard-out heavy metal strumming - and yes, XiYao is also a member of a heavy metal/rock band and performs his guzheng in this too.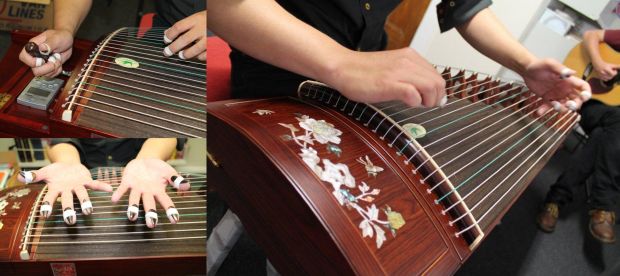 Top left: Tuning the guzheng. Bottom left: Xi Yao's picks for his guzheng. Right: Xi Yao Chen plucks the guzheng
Taoism is the Chinese philosophy underlying the study of the guzheng. XiYao tells me that you need to learn the  basic principals and foundation skills to perform the instrument in the first place, which may take about five dedicated years. After this you can begin understanding how to find expression within your music.
XiYao explains that the guzheng is an instrument that embodies people themselves; the principals of yin and yang, right and left, dark and light, positive and negative and male and female.
Back to the present improvisation with Jonny Marks and Jack Hooker. Jonny Marks tells me he traveled through China for several years, learning the art of Mongolian throat singing. When he demonstrates, Jonny's whole body, throat and skull become the vocal resonators. Jack Hooker is an accomplished acoustic guitarist, he also loves performing the percussive Balinese gamelan instrument too.

Jonny Marks and Xi Yao improvise throat singing and guzheng
Jack begins with a percussive rhythm, beating it out on his guitar. he's joined by XiYao and then by Jonny - resonating away. It's quite something. They tell me that improvisation is really about being utterly in the moment:
Each performance is unique, improvisation will never 'happen' again. The music becomes a third entity that expresses itself . Jonny Marks
I agree and watch as XiYao's fingers fly across his vast instrument. It feels like floating.