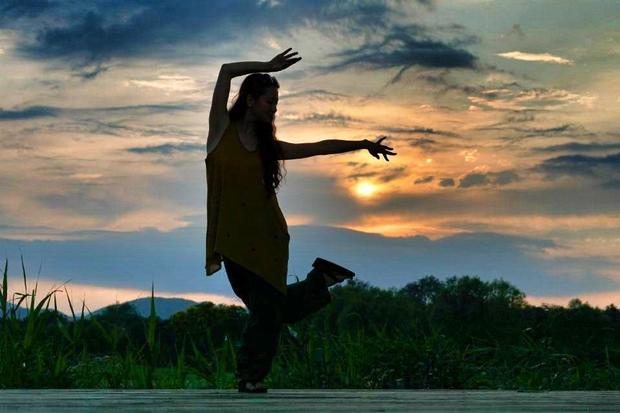 Anni Wang dances in Jingshan Park. Photo courtesy of Anni Wang.
Its the ultimate of bringing together the two cultures. We've always wanted to do a fusion piece. What is beautiful about this piece was that it was created by all the dancers involved in it, taking on ideas about their cultures and expressed through dance.  The three Chinese dancers were bought in specially to work with local dancers. Linda Lim, Festival Organiser, Asian Events Trust, Chinese New Year Wellington.
Gallery: Anni Wang and Chinese New Year in Wellington

Waiting backstage - the next generation.
As the brightly-costumed children of Yau Yi Yun (Chinese Kindergarten) are herded by busy parents in readiness for their performances they stop momentarily to gaze in awe at the professional dancers backstage.
A group of professional New Zealand and Chinese dancers are collaborating to open Chinese New Year in style at the TSB Arena on Wellington's waterfront.
Our own renowned choreographer Deirdre Tarrant (Footnote Dance) has got together with two professional Chinese dancers and one exchange student (who has never danced before in her life!) to combine Chinese, Maori and European symbolism into their movements on the main-stage.

Diedre Tarrant (far right), Ada, Anni Wang, Jill Go and dancers.
Every year there is a spectacular opening, but this year Nicole Foy is resplendent in a fiery red full-length cheongsam. As she sings 'Pokarekare Ana' Nicole is embraced in the serpentine movements of two huge dragons. Then the Chinese and New Zealand dancers enter and seamlessly weave the whole piece into a dream-like fusion.
How did this collaboration start and how were new friendships forged between countries? Dierdre Tarrant answers;
The Xiamen Association were looking to do collaborations. We've worked together in previous new year festivals but we wanted to develop it to be more interactive and contemporary and particularly to do with youth. So we all went to yum-char and wrote ideas down!
Wellington's sister city Xiamen often sponsors performers to travel to New Zealand during important cultural festivals, along with a host of other sponsors like the Asia New Zealand Foundation. The Wellington Xiamen Association often assist in training young dragon dancers here but this time they brought classical Chinese dancers in to train other New Zealand performers;
We discussed the symbolism, we all came up with ideas; export economy, ocean, water, food, similarities between important symbols like Chinese jade and Maori pounamu. It was a real collaboration - the costumes themselves are painted by calligraphy artist Stan Chan. Then Icebreaker came to the party and developed a special bright red merino shirt for the dancers too. And with three dancers; Anni who came from Xiamen, Jill from Singapore and Ada from Shenzhen City to share their culture with us.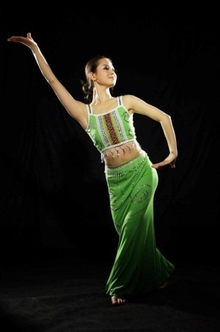 All the way from Xiamen, with a PHD in dance, Anni Wang is both ballet and traditional Chinese folk dance trained at the prestigious Beijing Academy of Dance. Anni's traveled around the world performing and teaching, she's even tutored performing teams involved with the Beijing Olympics. It's Anni's first time to New Zealand so I asked her what she enjoyed the most about this creative collaboration;
It's my first time to do contemporary dance  in this way, but I loved it! Diedre is such a good teacher, a good choreographer, I so enjoyed the combination of the dance. I will miss my new friends.
Jill Go (Chinese name Wu Shuqin) hails from Singapore and is completing her second year with the New Zealand school of dance. During this collaboration Jill loved learning about new cultures;
It's really quite an eye opener. I've learned so much about the iconic images of New Zealand, like the kowhai, things I didn't know before.  I really enjoy this process of collaboration with others.
Ada is a 17 year old exchange student from Wellington Girls College, she's only been in the country a couple of weeks too. When Dierdre found herself one Chinese dancer short it was Ada's international teacher who connected her with this promising young student from Shenzhen City in China. But Ada was initially very nervous, she hadn't danced on stage since she was in Chinese Kindergarten and this was her first time on stage in front of such a huge audience. Ada loved the experience. I asked Dierdre how Ada fared as the newbie;
Beautiful as the peonie, a case of natural talent. We've go her into my dancing classes now, she's going to keep dancing!
Janet Andrews is the President of the Wellington Xiamen Association. She tells me it was a coup to get Anni over, especially as a dance teacher with huge experience. Taking the opportunity to share Anni's knowledge of the traditional folk dance forms from around China, the association certainly plan to bring Anni back with even more Xiamen performers next time.
With only ten days from Anni's arrival to bring the whole performance together, it was intensely focused and richly rewarding. Both Deirdre and Anni would love to work together again in the future, so Chinese New Year of the Monkey in 2016 will be the time to watch out for their next creation.

Waiting backstage in ethnic minority costume.