Part 8 - Chook Champs
Pāmu Heihei Tihohehohe
We set up a backyard chicken coop and leisure area by converting an old playhouse into a coop, whacked a few warratahs around, attached some chicken wire and bought six highlay birds from a battery chicken farm. It's our way of fighting back against rising food costs.
We're off to meet the judges, breeders and chicken-fanciers at the national pigeon and poultry championships. Audio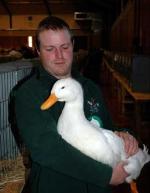 What a great weekend for poultry and pigeon fanciers. Over 1400 feathered friends gathered in Upper Hutt for the weekend, a chance for breeders and fanciers to get together, compete and show their birds to the world. There were loads of winners and the rosettes flowed, but there was only one 'Best in Show' - it came down to two birds, a Bantam hen and a Pekin Duck. Taking it out was Marcus Albrecht with his Pekin Duck (right).

See photos from The New Zealand Pigeon and Poultry championships