Banded Dotterel
Tuturiwhatu
Bird spotting with Hugh Roberston, one of the authors of The Field Guide to the Birds of New Zealand. This week we're on the hunt for the banded dotterel (aka the double-banded plover). Audio
Banded dotterels in the news
Wellington Regional Council and local iwi have placed access restrictions on a stretch of beach to protect a nesting site of the threatened banded dotterel.
Updated at 11:53 am on 6 October 2013
Wellington iwi, Taranaki Whanui, has placed a rahui at Parangarahu - or the Pencarrow Coast - to protect the nesting site of a vulnerable native bird.
Updated at 10:16 pm on 4 October 2013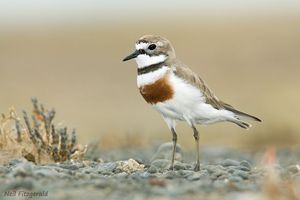 Photograph by Neil Fitzgerald. Used with permission.
More about dotterels