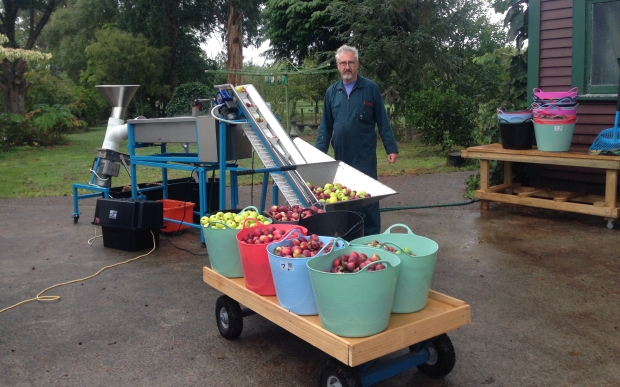 Cider maker Trevor Fitzjohn.
The apple harvest's underway and all over the country ripe apples are being plucked from the tree before getting washed, graded and sent to massive cool warehouses for storage.
The apple harvest is a busy time for New Zealand's cider makers too, as they pick their fruit, press it to extract the juice, and ferment it in barrels to turn it into cider. Well that's if you make your cider the traditional way.
Here in New Zealand, according to the Food Standards Code, cider is a "fruit wine prepared from the juice or must of apples and no more than 25% of the juice or must of pears". So no minimum apple content is stipulated and there is nothing to distinguish between ciders made from fresh apple juice or concentrate.
The industry body Fruit Wine and Cider Makers New Zealand is proposing a new code that would mean that to use the word 'cider' a drink must contain a minimum of 35% apple juice, either fresh or from concentrate, as is the case under UK law.
But for some purists that still doesn't go far enough. Trevor Fitzjohn makes his cider the traditional way from 100% fresh juice pressed from a whole range of special cider apple varieties grown in his one acre orchard in the Wairarapa.
Meanwhile, sales of cider here in New Zealand are rocketing. According to DB Breweries which sells NZ's three biggest brands, Rekorderlig, Monteith's Cider and Old Mout, cider sales are up more than 300 percent since 2010, and it forecasts they will double again over the next five years.
The British beer writer Pete Brown charts the global cider boom in his book 'World's Best Cider'.
He said that although a lot of recent growth had come from sales of mainstream, typically sweeter brands, this is also providing a gateway into a premium, craft product.
"It's becoming a global drink really for the first time ever...it is the most exciting time there has ever been in the history of cider at the moment."