Melody Thomas assesses a new EP from local soultronica duo Electric Wire Hustle.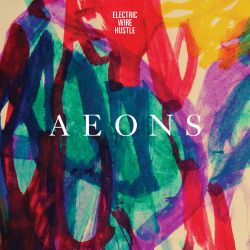 Electric Wire Hustle have made a name for themselves by deftly navigating the choppy waters where the seas of hip hop, jazz, soul and electronica collide. It's ambitious stuff - and when it works, it works beautifully.
Lyrically, Aeons more than lives up to the band's intentions of taking the listener on a journey. There are times where the momentum of the music plateaus, the initial beauty of a sonic landscape made paler by repetition, but the EP itself is hugely dynamic. From the atmospheric soul of opening track 'Aeons', we move to a full on cosmic assault with 'Brother Sun', featuring Hamilton's most effervescent export Kimbra, before we're sent searching in the 'Desert of The Real', fleeing from the man with Truth and, finally, marching slowly as part of a righteous hikoi led by Deva Mahal. It's a powerful note to go out on.