Jason Isbell, Photo by David McClister.
Nick Bollinger considers a new set of detailed country dramas from southern singer-songwriter Jason Isbell.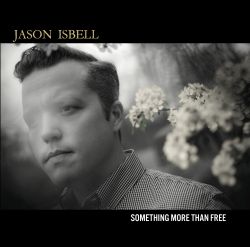 When Jason Isbell released his 2013 album Southeastern he was just a year out of rehab, which some suggested was the reason for its bleak and confessional tone. Since then, the Alabama-born singer-songwriter has stayed sober and remarried. Will that mean his new album is more upbeat? Let's call it a mood of qualified optimism. In 'Flagship', one of several excellent songs on Something More Than Free, the singer sits in a hotel with his wife, pledging never to let their romance die, while all around them are the symbols of decay; the lights in the lobby flicker unreliably while another couple in the bar sit, as Isbell notes, 'a thousand miles apart.' The song's theme is simple and classic but the details are so specific and well-observed, the mood so subtly controlled, that it almost seems like an idea that has never been sung before.
At times Isbell comes across like a sweeter-voiced Springsteen, and his great group the 400 Unit like a less bombastic E-Street Band. On other tracks his lyricism is matched by his command of a good melody, while the production leans towards a lush pop sound, reminiscent of R.E.M.
He gives the characters in his songs names, homes, jobs, husbands or wives, yet tends to sing their stories in the first person. And it often seems as though almost any of them could have been Isbell, had life dealt him just a slightly different hand. They are like versions of himself from a parallel universe where, but for grace of God, he might have been a manual labourer rather than a musician, as in the album's title song.
Songs played: Flagship, The Life You Chose, 24 Frames, Children Of Children, Something More Than Free, How To Forget, If I Takes A Lifetime