Jim Pinckney appraises a new album from art school alt-pop outfit Django Django.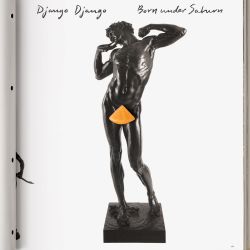 British 4 piece Django Django are an intriguing proposition who always deliver much promise yet never quite seem to fully capitalise on that. Their debut album from 2012 was smart as a whip and very well worked, yet still somehow managed to be frustrating and a little unfulfilling at the same time. With Born Under Saturn they still suffer at times from the same surplus of ideas and indecision on which path to follow, though they throw some interesting shapes along the way in their quest for identity.
Essentially they are a synth pop band with a wide focus that can encompass everything from a healthy dose of soft psychedelia to dancefloor tropes, often all within the same song.
When they do get all of the components right, and there are a few contenders for that, their fluid playing and meticulous arrangement skills allows for some engrossing musical gymnastics.
Songs featured: Vibrations, First Light, 4000 Years, High Moon, Shake & Tremble, Giant, Beginning To Fade, High Moon
Listen to more from The Sampler