Ibeyi. Photo supplied.
This week in The Sampler Nick Bollinger reviews the 'contemporary spirituals' of Cuban-French
twins Ibeyi; a personal approach to the Great American Songbook from Bob Dylan; and the meeting of Southern iconoclasts Jim White and the Packway Handle Band.
Ibeyi by Ibeyi (XL Recordings)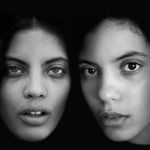 They call themselves Ibeyi, a Yoruba word meaning 'twins', but their names are Naomi and Lisa Diaz, nineteen-year-old identical twin sisters of Cuban and French descent.
Their father was the Cuban percussionist Anga Diaz, who had toured and recorded with everyone from the Buena Vista Social Club to Roy Hargrove, until his death in 2006. His hands held the history of Cuban drumming, going all the way back to the the slave ships. And Yoruba rhythms and vocal chants are building blocks the sisters use in many of their original songs. They have referred to these as 'contemporary negro spirituals'. Yet if African and Cuban traditions hover like ancestral spirits behind these tunes, the surface are urban and modern, with synth lines and glitchy electronic beats accompanying their spell-binding voices.
Songs Featured: Oya, Think Of You, River, Weatherman, Stranger/Lover, Mama Says
Shadows in the Night by Bob Dylan (Columbia)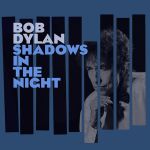 Whether or not Bob Dylan's new album comes to you as a complete surprise depends how closely you have been following his career in recent years.
Frank Sinatra is the common denominator that runs through the ten songs, all standards from the pre-rock era that Sinatra (among others) has recorded before. It's clear Dylan loves these songs, and feels a connection to their sentiments, using each one to say something simply yet profoundly about loneliness and loss, hardship and faith.
His band lends subtle voicings, colouring the complex chords with shades of western swing. Of course, some listeners – used to Sinatra's cool legato – may recoil at Dylan's delivery. And yet it's striking how Dylan mutes his usual mannerisms for these performances, as if he's trying to make himself transparent, a conduit for the songs rather than a bravura performer stamping his identity all over them. And if his singing occasionally moves stiffly and reveals more effort than I'd like to be aware of, I also hear in these recordings wisdom and bravery, and no small amount of love.
Songs Featured: I'm A Fool To Want You,Autumn Leaves,Some Enchanted Evening,Why Try To Change Me Now,Stay With Me,What'll I Do?,That Lucky Old Sun
Take It Like A Man by Jim White & The Packway Handle Band (Yep Rock)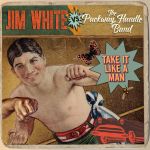 If you want an introduction to Jim White, and to find out where he fits into the world of southern gothic outsider poet oddballs, the best place to start might be the film Searching For The Wrong-Eyed Jesus, a quasi-documentary travelogue in which White plays native guide. Or you could just start with his latest album, Jim White Vs. The Packway Handle Band: Take It Like A Man, made with the Georgia alt-bluegrass quintet with which he shares credit.
Acoustically refreshed versions of old White songs sit comfortably alongside new originals. Summary of White's southern-skewed view: 'A barroom's just a church where they serve beer.'
Songs Featured: Smack Dab In A Big Tornado, Jim 3:16, Wordmule Revisited, Sorrows Shine, Not A Song