In the final episode of Manu Tioriori, a series about Māori musicians, Narelle and Ellison Huata talk about the work and invaluable teachings of their father Tama Huata (1950 - 2015).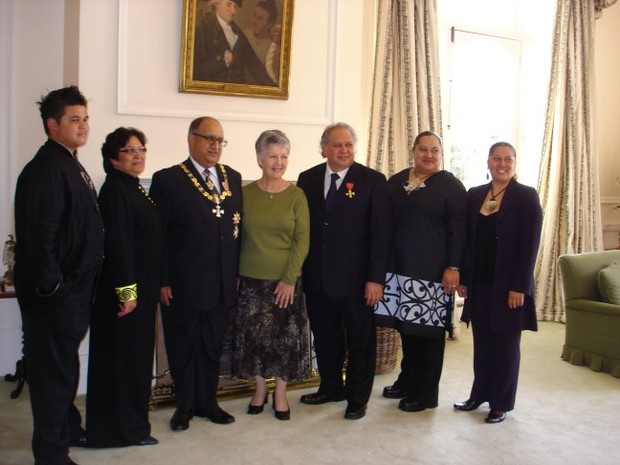 Huata whanau at Government House, 2006. Photo: Supplied.
Narelle Huata works as the Chief Executive Officer of Te Wānanga Whare Tapere o Takitimu, the performing arts school established in Hastings in 1983.
Ellison Huata spent ten years in Canada in the early stages of taking Kahurangi Māori Dance Theatre to the world, today she runs the organisation, and she is at the helm of the 2015 Waiata Māori Music Awards. The sisters share their perspectives on their father, his invaluable lessons and the future ahead.
Tama Huata grew up in Rotorua, his father Canon Wi Te Tau Huata was an Anglican Māori Minister who at the time of Tama's birth, was based at a church in Te Ngae, Rotorua. Tama would witness his father carry out karakia and waiata to his congregation which would be his first glimpse into traditional Māori performing arts.
From Rotorua the family moved to Hamilton and Tama and his brothers would attend Southwell School in Hamilton. In a 2012 archival interview with Justine Murray he recalled,"there were only five māori boys". From Hamilton, he headed to St Stephens (Hato Tipene) Māori Boys Boarding School. He again joked "there were five pākeha boys at that school". He encountered Opera at Southwell School, and Kapahaka at Tipene.
After a stint at Air New Zealand, In the 1960's Tama Huata headed to Australia where he would soak up the Māori showband scene in Sydney. At the height of his career his band would play up to 14 shows a week. He learned as much as he could from a production entrepreneur at the time, Reg Grundy, starting as his chauffeur and moving into stage work and production.
After more than a decade with a young family in tow, Tama moved back to Aotearoa, and set about creating a traditional Māori performing arts community in Hastings. The Takitimu Performing Arts School was established in 1983, and shortly thereafter The Kahurangi Māori Dance Theatre.
Over the three decades before his passing in February 2015, Tama Huata worked tirelessly on a number of projects. In 2006 he was awarded a New Zealand Order of Merit for services to the arts, and in 2012 he was a recipient of Te Tohu Toi Kē - Making a Difference to the Arts, hosted by Te Waka Toi (Creative New Zealand).
In 2007 he created the Waiata Maori Music Awards, an event where contemporary and traditional Māori artists could be recognised for their work.
Tama Huata passed away at his home near Napier and laid to rest at Whenuakura Urupa in Pakipaki.
At this year's Te Matatini Festival in Christchurch many Takitimu Waka affiliated culture groups paid tribute to him in their waiata compositions.  The 2015 Waiata Maori Music Awards will be held in his honour.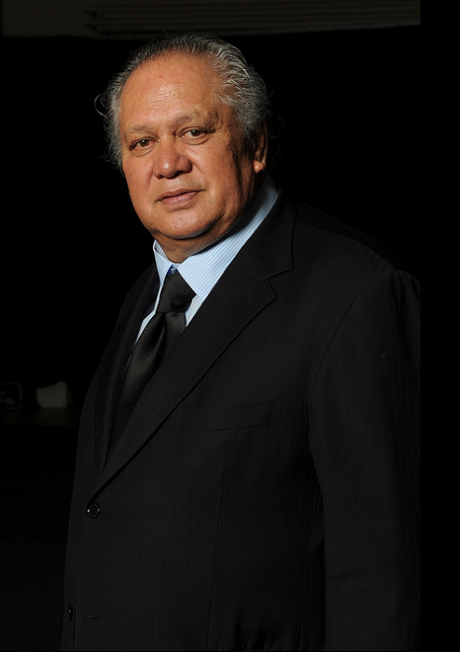 Tama Huata (1950 - 2015). Photos: Supplied.
Tama Huata iwi/hapu affiliations:
Hopupu Hōngenge Matangirau, Ngai Tamaterangi, Ngāti Pahauwera, Ngāti Kahungunu ki Heretaunga, Ngāti Hawea, Ngāti Hori, Ngāti Hinemoa. Ko Kahurānaki te Maunga, Ko Whakapunake te Maunga (Te Wairoa).